September 25, 2019
Apple Dumplings at the Old Parkdale Inn
By: Mary Pellegrini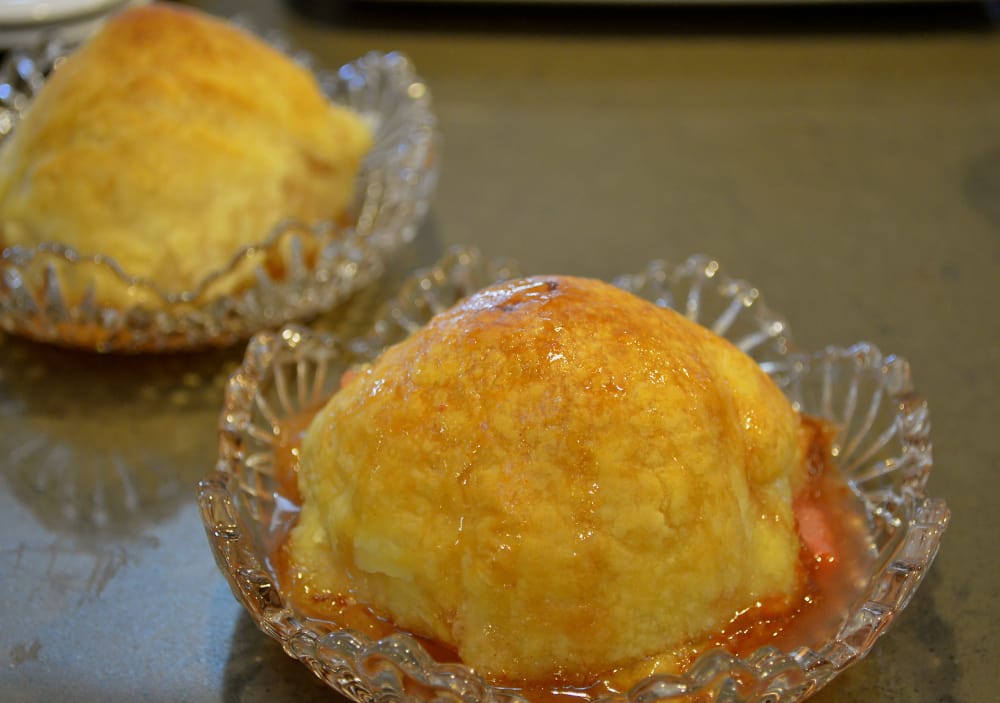 Apple Dumplings at the Old Parkdale Inn are a welcomed Fall breakfast pastry. The last of the summer plums went into a Plum Buttermilk Upside Down Cake and I made a trip up to Kiyokawa Farms for fall apples and pears from the Hood River Valley Orchard. The Apple Dumpling is a guest favorite and I look forward to making it for you in the months to come.
Old Parkdale Inn Apple Dumpling ~ 4 servings
For the Sauce: bring 1 cup water, 2/3 cup sugar, 2 tbsp butter, 1/4 tsp cinnamon to a boil and let simmer while you prepare the apples.
Preheat oven to 425 degrees.
Apple stuffing: Brown sugar, craisins, cinnamon. I make a large batch of this, maybe a couple of cups at a time, and keep leftovers in plastic zip lock bag in frig. Prepare Puff Pastry: thaw sheet and cut into quarters
Peel and core your apples and fill with brown sugar stuffing then gently wrap puff pastry around apple. Don't worry if the dough doesn't completely enclose around the apples. Place the dumplings in a buttered pan and pour the sauce over the dumplings and around the sides of the pan. Bake for 40 minutes until golden brown. Serve hot with extra sauce drizzled over the top.
Let us be home base for exploring and enjoying the Hood River Valley and Mt Hood National Forest. After a full day, you'll love the peace and tranquility of the Old Parkdale Inn. Relax in the gardens, perhaps with a glass of wine from a bottle you picked up at a local winery or our wine cabinet. We can even have a bonfire, roast some s'mores, if you'd like.
Outdoor adventures such as kayaking, windsurfing, skiing, snow boarding, and hiking await. Mt. Hood Meadows, Cooper Spur Mountain Resort, and Timberline Ski areas are only a short drive away, as is the vast Mt. Hood National Forest where trails and wildlife abound. We partner with Timberline Ski Areas allowing us to offer discounted lift vouchers to our guests. Stay at the Inn and take advantage of our partnership with Wet Planet Whitewater to receive $10 your raft adventure.