September 18, 2016
Plum Upside Down Buttermilk Cake from our Garden Plums
By: Mary Pellegrini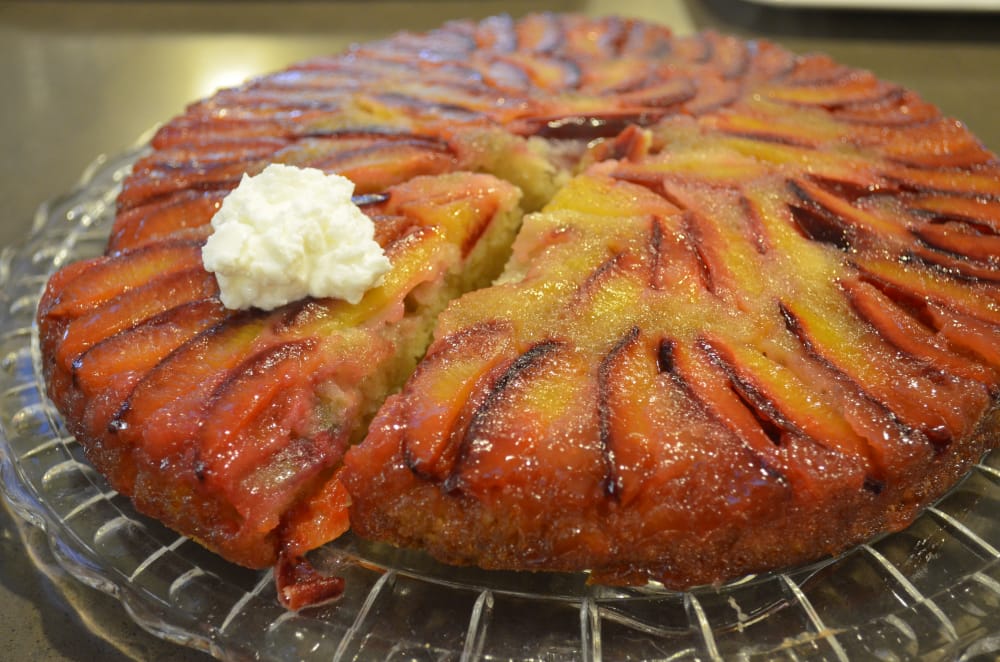 We have three plum trees in the gardens of the Old Parkdale Inn Bed and Breakfast and they were sure loaded with fruit this year. We've made cakes and pastries as they've come off the tree for the past few weeks. This morning I will make the last Plum Upside Down Buttermilk Cake of the year and I'm sure it will be well received by our guests, as always.
Plum Upside Down Buttermilk Cake
Place 1/4 cup butter in 8″ round baking pan and place in an oven preheating to 400º until melted. While it heats prepare about 10 plums by slicing them into wedges, getting about 8-10 wedges per plum. When the butter has melted swirl it around the pan. I use a pastry brush to make sure the sides are buttered too. Add 1/2 cup brown sugar, mix it well into the butter then arrange the plum wedges in rays around the pan.
Buttermilk Cake Batter:
1 cup flour
½ tsp baking powder
½ tsp baking soda
¼ tsp salt
½ stick of butter, softened
¾ cup sugar
½ cup buttermilk
1 egg
½ tsp vanilla extract
Whisk together the flour, baking powder, baking soda, and salt, and set aside. In another bowl, cream the butter and ¾ cup of sugar together, then add the vanilla extract, egg and buttermilk and whisk till smooth. Add to flour mixture. Stir until just combined. Scrape the buttermilk cake batter onto the plum slices and smooth. Bake for around 25 minutes or until a toothpick inserted into the cake comes out clean.
Cool for 5 minutes, then carefully invert onto serving platter. We served it slightly warm with a dab of Greek yogurt and some sliced fresh plums as garnish.