Our Story
Steve and Mary Pellegrini have owned the Old Parkdale Inn for 14+ years. The inn is nestled in the Hood River Valley on the northern slope of Mt. Hood. Mary is often asked if she had a B&B before the Old Parkdale Inn and quickly responds "I raised three kids and a husband, I have been doing the B&B thing for many years!"
In 2013 Mary was joined by her husband Steve after his retirement from his life long occupation as a welder in Pipeline Construction. Their plan is to spend time together in Parkdale, running the inn and enjoying the amazing area they live in.
Steve and Mary enjoy the outdoors and look forward to sharing their knowledge of the area and its many attractions to their guests. Their cats also look forward to making you feel at home, but only if you want.
Mary served as a director on the Oregon Bed and Breakfast Guild board for 10 years, six years served as President. Recently she was elected to another term and is responsible for promoting the Guild through social media. A member of the Columbia River Gorge Bed and Breakfast Association, Hood River County Chamber of Commerce and the Columbia River Gorge Visitors Association. Prior to moving to Oregon Mary served as Executive Director of the Boys and Girls Club of Cloverdale, CA.
Innkeepers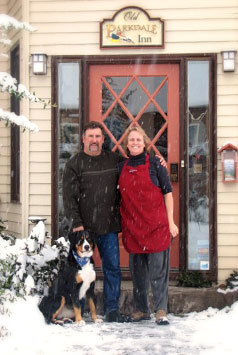 Steve and Mary Pellegrini and their beloved Tilly who passed away in August