September 24, 2019
Gingered Pear and Raspberry Pandowdy with Hood River Valley Pears
By: Mary Pellegrini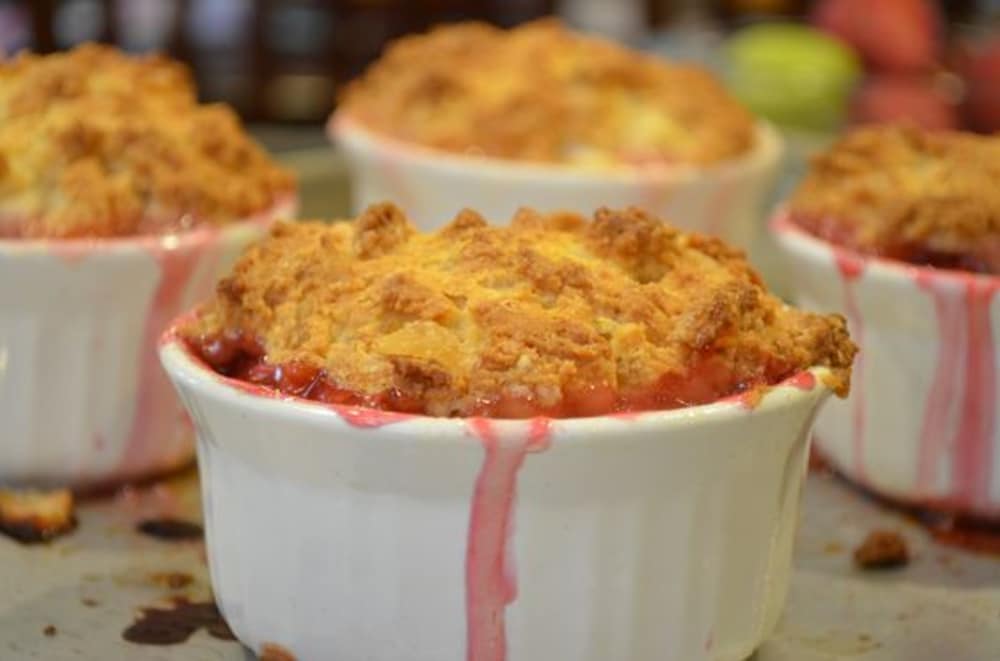 Gingered Pear and Raspberry Pandowdy at the Old Parkdale Inn Bed and Breakfast, located in the Hood River Valley, the largest pear growing region in the nation. Many of our growers have cold storage units where we can pick up fresh pears almost all year round. This Gingered Pear and Raspberry Pandowdy has become a guest favorite.
Fruit Filling:
1/2 cup sugar
2 Tbs cornstarch
Pinch of fine sea salt
4 large pears, peeled, cored, and sliced
1 Tbs lemon juice
1 dry pint raspberries, fresh or frozen
1 Tbs cold butter, cut into small pieces
Preheat oven to 400°. Butter 4 small ramekins.
Fruit Filling: Rub the sugar, cornstarch and salt together in a large bowl, add pears and lemon juice and toss until evenly coated. Gently fold in raspberries and divide into ramekins. Dot with butter.
Biscuit:
1 3/4 cup flour
3 TBS plus 1 TBS sugar
3/4 tsp baking powder
1/2 tsp fine salt
10 TBS cold butter
1/3 cup chopped candied ginger
2/3 cup plus 1 TBS cold buttermilk
Biscuit: Whisk together flour, 3 TBS sugar, baking powder and salt. Cut in butter until the size of peas. Stir in the Candied ginger, pour in the 2/3 cup buttermilk and stir until the dry ingredients are moistened. The dough will be crumbly, with large pieces of butter still visible. Turn the dough onto a lightly floured board and gently press the dough together. Divide into four pieces and place atop the fruit. Brush the dough with the remaining buttermilk and sprinkle with remaining sugar.
Bake in the lower third of the oven for 30 minutes, then turn the oven down to 350° and bake for an additional 20 minutes or until the pastry is golden and the juices are bubbly and thick. Allow to cool a bit before serving.
Let us be home base for exploring and enjoying the Hood River Valley and Mt Hood National Forest. After a full day, you'll love the peace and tranquility of the Old Parkdale Inn. Relax in the gardens, perhaps with a glass of wine from a bottle you picked up at a local winery or our wine cabinet. We can even have a bonfire, roast some s'mores, if you'd like.
Outdoor adventures such as kayaking, windsurfing, skiing, snow boarding, and hiking await. Mt. Hood Meadows, Cooper Spur Mountain Resort, and Timberline Ski areas are only a short drive away, as is the vast Mt. Hood National Forest where trails and wildlife abound. We partner with Timberline Ski Areas allowing us to offer discounted lift vouchers to our guests. Stay at the Inn and take advantage of our partnership with Wet Planet Whitewater to receive $10 your raft adventure.