December 16, 2019
Double Ginger Pumpkin Flan
By: Mary Pellegrini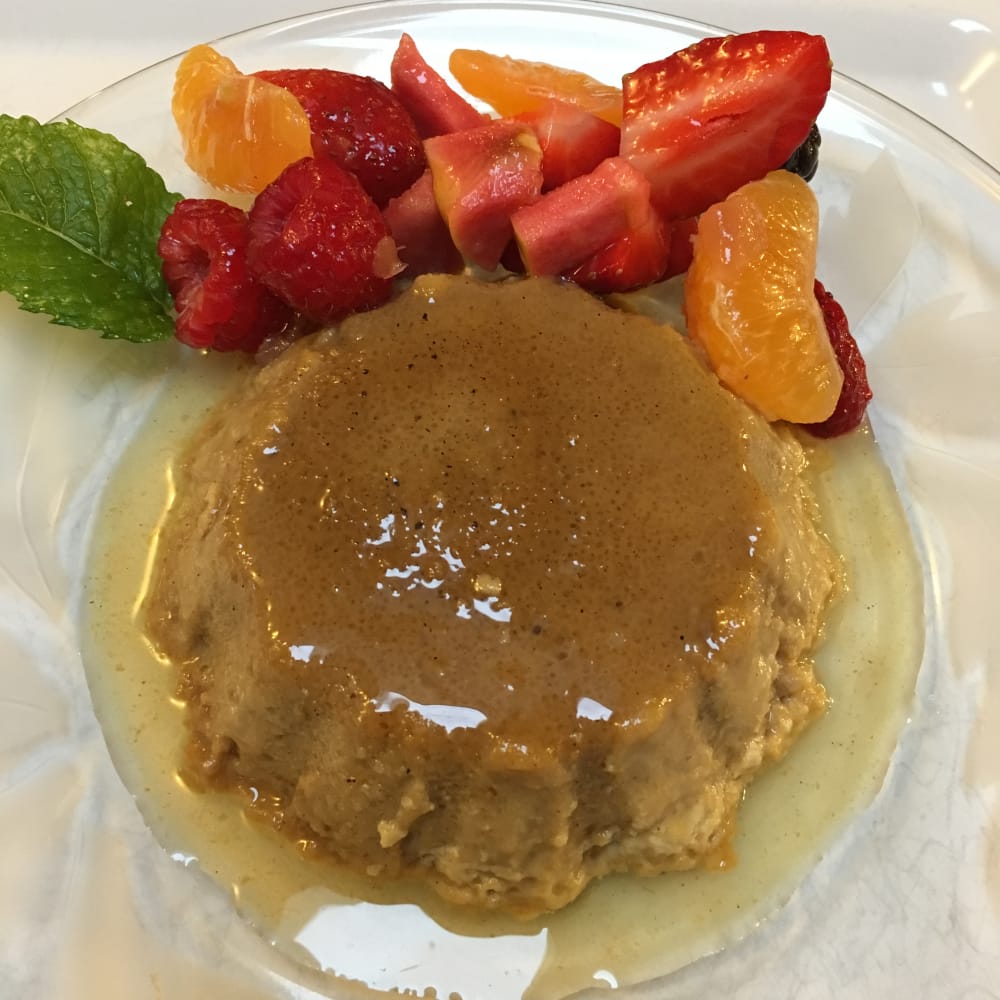 Rich and Creamy Pumpkin Ginger Flan will be served as a first course this Thanksgiving at the Old Parkdale Inn. A touch of fresh Ginger adds special flavor to our sweet breakfast treat.

Preheat oven to 325°
Caramel:
Cooking spray
1/2 cup sugar
1/4 cup water
To prepare caramel, lightly coat 6 (6-ounce) ramekins with cooking spray. Combine 1/2 cup sugar and 1/4 cup water in a small, heavy saucepan over medium heat. Cook 4 minutes or until sugar dissolves, stirring occasionally. Increase heat to medium-high. Cook, without stirring, 6 minutes or until mixture turns golden around outside edges. Divide evenly into prepared ramekins. Set aside.
Flan:
1/3 cup sugar
6 large egg yolks
1 cup canned unsweetened pumpkin
1 teaspoon vanilla extract
1/2 teaspoon ground ginger
1/2 teaspoon ground cinnamon
1 cup 2% reduced-fat milk
1/2 cup half-and-half
1 teaspoon grated peeled fresh ginger

To prepare flan, combine 1/3 cup sugar and egg yolks in a medium bowl, stirring well with a whisk. Stir in pumpkin and next 3 ingredients (through cinnamon). Combine milk, half-and-half, and fresh ginger. Heat milk mixture over medium-high heat in a heavy saucepan to 180° or until tiny bubbles form around edge (do not boil). Gradually add half of hot milk mixture to egg mixture, stirring constantly with a whisk. Return milk mixture to pan. Reduce heat, and cook to 160°, stirring constantly with a whisk . Remove from heat. Strain through a sieve over a large bowl; discard solids.
Divide milk mixture evenly among prepared ramekins. Place cups in a 13 x 9–inch baking pan; add hot water to pan to a depth of 1-inch. Bake at 325° for 50 minutes or until a knife inserted in center comes out clean. Remove cups from pan; cool completely on a wire rack. Chill at least 8 hours.
Let us be home base for exploring and enjoying the Hood River Valley and Mt Hood National Forest. After a full day, you'll love the peace and tranquility of the Old Parkdale Inn. Relax in the gardens, perhaps with a glass of wine from a bottle you picked up at a local winery or our wine cabinet. We can even have a bonfire, roast some s'mores, if you'd like. We now have EV and Tesla Chargers for guest use.
Outdoor adventures such as kayaking, windsurfing, skiing, snow boarding, and hiking await. Mt. Hood Meadows, Cooper Spur Mountain Resort, and Timberline Ski areas are only a short drive away, as is the vast Mt. Hood National Forest where trails and wildlife abound. We partner with Mt Hood Meadows and Timberline Ski Area, offering multi-night packages and access to discounted lift tickets. Stay at the Inn and take advantage of our partnership with Wet Planet Whitewater to receive $10 your raft adventure.