November 20, 2017
Double Ginger Pumpkin Flan
By: Mary Pellegrini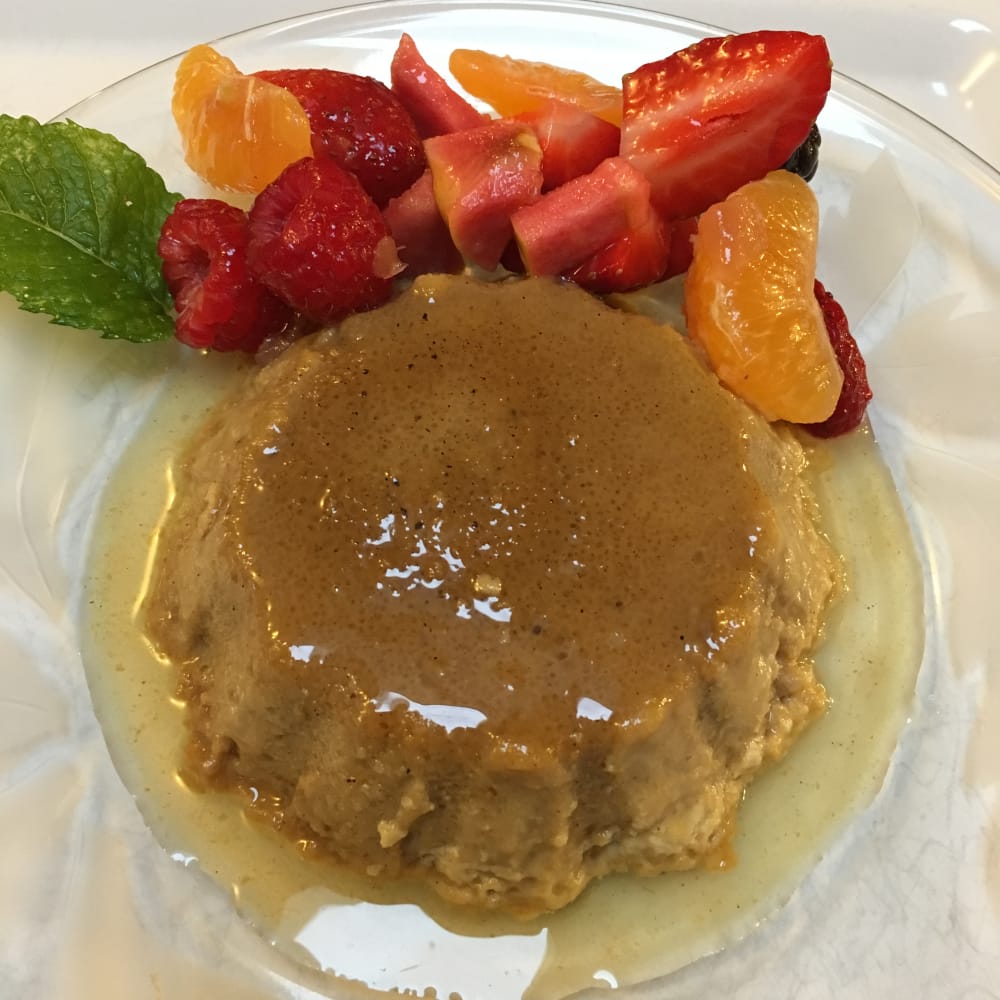 Rich and Creamy Pumpkin Ginger Flan will be served as a first course this Thanksgiving at the Old Parkdale Inn. A touch of fresh Ginger adds special flavor to our sweet breakfast treat.

Preheat oven to 325°
Caramel:
Cooking spray
1/2 cup sugar
1/4 cup water
To prepare caramel, lightly coat 6 (6-ounce) ramekins with cooking spray. Combine 1/2 cup sugar and 1/4 cup water in a small, heavy saucepan over medium heat. Cook 4 minutes or until sugar dissolves, stirring occasionally. Increase heat to medium-high. Cook, without stirring, 6 minutes or until mixture turns golden around outside edges. Divide evenly into prepared ramekins. Set aside.
Flan:
1/3 cup sugar
6 large egg yolks
1 cup canned unsweetened pumpkin
1 teaspoon vanilla extract
1/2 teaspoon ground ginger
1/2 teaspoon ground cinnamon
1 cup 2% reduced-fat milk
1/2 cup half-and-half
1 teaspoon grated peeled fresh ginger

To prepare flan, combine 1/3 cup sugar and egg yolks in a medium bowl, stirring well with a whisk. Stir in pumpkin and next 3 ingredients (through cinnamon). Combine milk, half-and-half, and fresh ginger. Heat milk mixture over medium-high heat in a heavy saucepan to 180° or until tiny bubbles form around edge (do not boil). Gradually add half of hot milk mixture to egg mixture, stirring constantly with a whisk. Return milk mixture to pan. Reduce heat, and cook to 160°, stirring constantly with a whisk . Remove from heat. Strain through a sieve over a large bowl; discard solids.
Divide milk mixture evenly among prepared ramekins. Place cups in a 13 x 9–inch baking pan; add hot water to pan to a depth of 1-inch. Bake at 325° for 50 minutes or until a knife inserted in center comes out clean. Remove cups from pan; cool completely on a wire rack. Chill at least 8 hours.
Let the Old Parkdale Inn be your home base when exploring the Hood River Valley, Columbia River Gorge or the Mt Hood National Forest. Whether your idea of a good vacation is fresh tracks on Mt Hood or relaxing in our gardens with a good book and your favorite beverage, there's something near by for everyone.