August 6, 2018
Blueberry Lemon Cake
By: Mary Pellegrini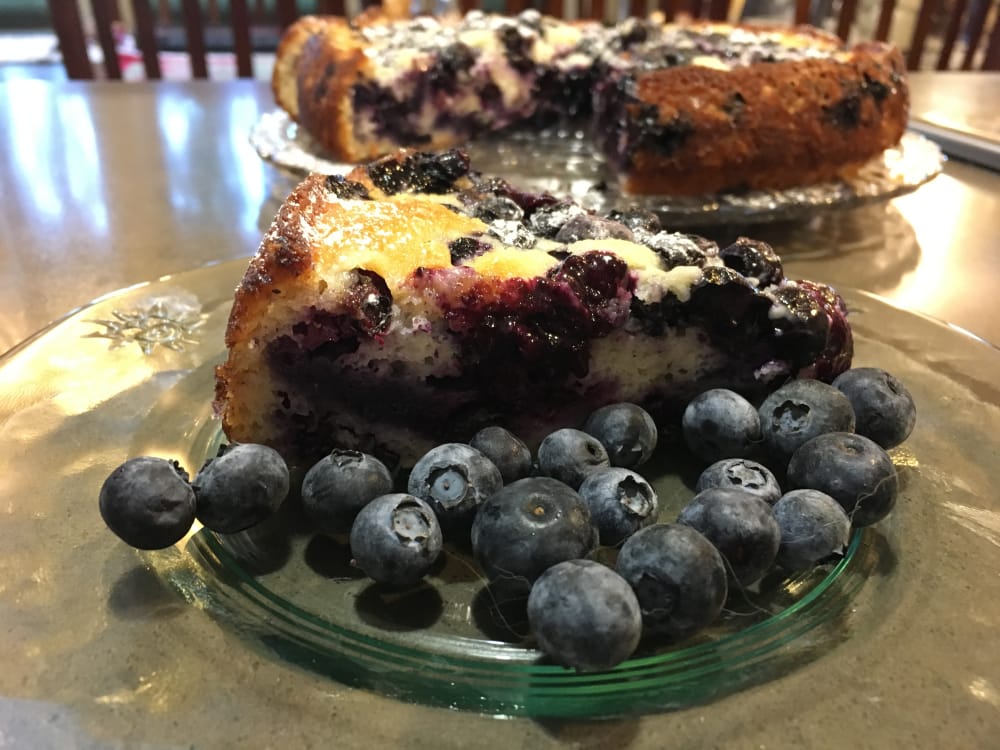 Ingredients for Blueberry Lemon Cake:
2 large eggs
1 cup granulated sugar
1 cup sour cream
1/2 cup vegetable oil
1 tsp vanilla extract
1/4 tsp salt
2 cups all-purpose flour
2 tsp baking powder
1 Tbs lemon zest
1 tsp lemon juice
1/2 Tbsp corn starch
16 oz fresh** blueberries
Powdered sugar to dust the top, optional
Prep: Lightly butter a 9-inch springform pan**** and line the bottom with parchment paper. Preheat Oven to 375˚F.
1. Beat 2 eggs and 1 cup sugar with whisk attachment on high speed 5 minutes or until lightened in color and thick.
2. Add 1 cup sour cream, 1/2 cup oil, 1 tsp vanilla, 1/4 tsp salt and whisk on low speed until well combined.
3. Whisk together the 2 cups flour with 2 tsp baking powder then add to batter 1/3 at a time, whisking to incorporate between each addition. Finally, add the lemon zest.
4. Rinse blueberries and drain well. In a medium bowl, toss blueberries with 1/2 Tbsp corn starch and 1 tsp lemon juice, stirring until well combined and no dry white cornstarch remains.
5. Pour half of the batter into prepared springform pan and spread evenly with a spatula. Top with half of the blueberries. Spread with remaining batter then sprinkle the rest of the blueberries evenly over the top, pushing them slightly into the batter (about halfway). Bake at 375˚F for 45 to 55 minutes (mine was perfect at 55 min), or until a toothpick inserted into center comes out clean without wet batter. Let cake rest in the pan 15-20 minutes then remove ring and cool until room temp or just warm.
Let the Old Parkdale Inn be your home base when exploring the Hood River Valley, Columbia River Gorge or the Mt Hood National Forest. Whether your idea of a good vacation is fresh tracks on Mt Hood or relaxing in our gardens with a good book and your favorite beverage, there's something near by for everyone.