June 7, 2019
Baked Pumpkin Donut
By: Mary Pellegrini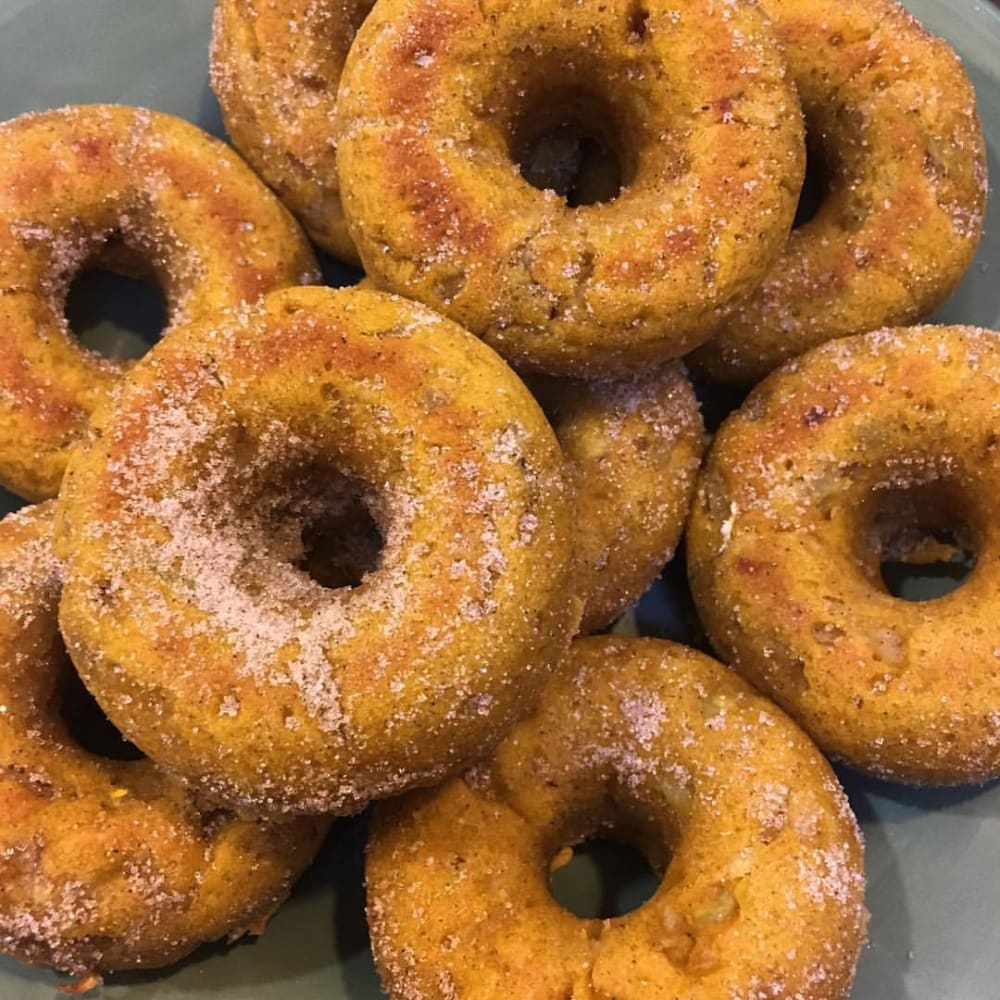 National Donut Day is the first Friday in June, June 7, 2019. We hope you have a chance to try this delicious baked donut recipe. Or request them the next time you visit. Clean up is easier than with a fried version not to mention a bit less guilt-inducing!
Baked Pumpkin Donut
3/4 cup pumpkin puree
2 tbs. vegetable oil
2 tbs. butter, melted
1/2 cup granulated sugar
1/4 cup light brown sugar, packed
2 eggs
1/2 tsp. maple extract
1 tsp. pumpkin pie spice
1 1/2 tsp. baking powder
1 tsp. salt
1 cup all-purpose flour

Preheat oven to 350 degrees. Prepare your donut shaped baking pan with non-stick cooking spray

In a mixing bowl, add in the pumpkin puree, vegetable oil, melted butter, granulated and brown sugars. Mix on medium until combined.

Add in both of the eggs and maple extract. Mix on medium until incorporated.

Add in the pumpkin pie spice, baking powder, salt and flour. Mix until just combined.
Use a piping bag, or spoon, to fill each donut cup about 3/4 full, making sure the center post is clear. Innkeeper uses a 9 cavity donut silicone baking mold. Bake until the donuts are a light golden brown and spring back when touched, 6-10 minutes. Let cool slightly, flip pan over, glaze or roll in cinnamon sugar
Let the Old Parkdale Inn be your home base when exploring the Hood River Valley, Columbia River Gorge or the Mt Hood National Forest. Whether your idea of a good vacation is fresh tracks on Mt Hood or relaxing in our gardens with a good book and your favorite beverage, there's something near by for everyone.
Outdoor adventures such as kayaking, windsurfing, skiing, snow boarding, and hiking await. Mt. Hood Meadows, Cooper Spur Mountain Resort, and Timberline Ski areas are only a short drive away, as is the vast Mt. Hood National Forest where trails and wildlife abound. We partner with Timberline Ski Areas allowing us to offer discount lift tickets to our guests. Stay at the Inn and take advantage of our partnership with Wet Planet Whitewater to receive $10 your raft adventure.