February 21, 2016
Catherine Creek Labyrinth Out and Back
By: Mary Pellegrini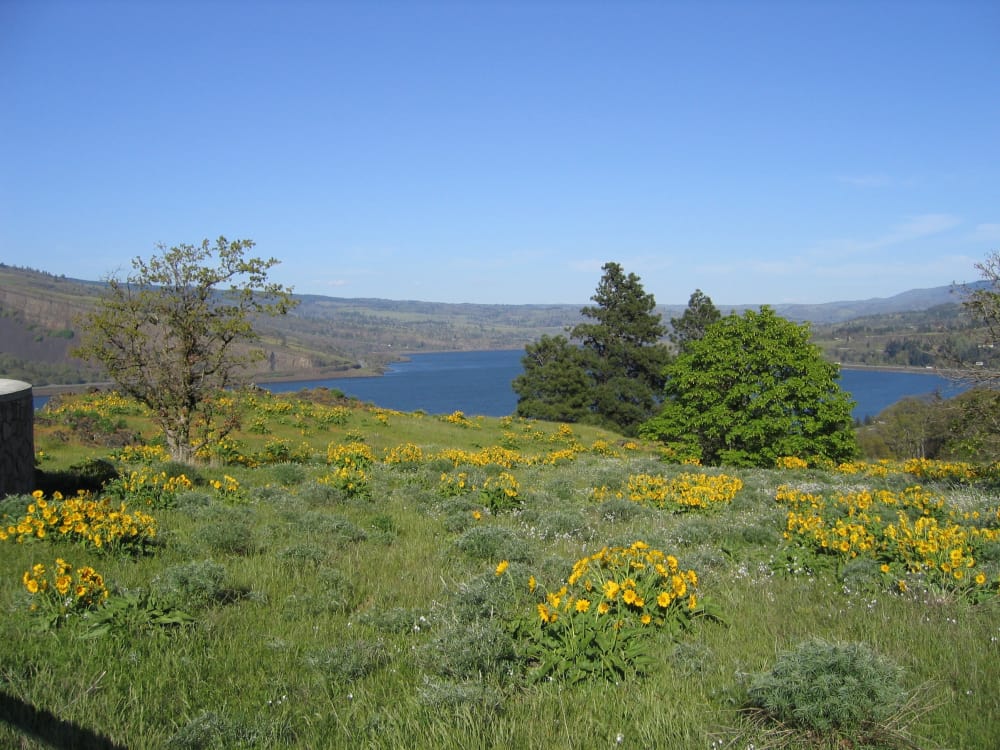 Catherine Creek is an area of unique natural beauty and great botanical significance. About 20 miles from the Old Parkdale Inn, you'll find over ninety species of wildflowers in the area, from grass widow, which blankets the ground as early as February, to western ladies' tresses, which may bloom into July.
The Catherine Creek Universal Access Trail offers dramatic views of the Columbia River and Mount Hood. 'Hike through beautiful rock structures, oak woodlands and wildflowers galore in the spring. One of the most treasured gems of the Gorge.' Friends of the Columbia Gorge
The paved, universal access trail offers two levels of difficulty for wheelchairs. The short 0.25-mile "easy" route will take you to a viewpoint overlooking Catherine Creek Falls. The "moderate" routes form loop opportunities up to 1.25 miles in length through open grasslands, vernal ponds, and oak woodlands.
That's right–this pretty forest area offers a unique experience in Washington: a walk in a natural hardwood deciduous forest. You'll find a lovely old oak forest stand on the slope above Catherine Creek, as well as great gardens of spring wildflowers. The trails are well maintained and easy, making this a wonderful place to bring novice hikers or other folks not used to hiking: The well-graded trails make this a literal walk in the park. At both ends of the gentle loop, enjoy great views from established viewpoints.
The Old Parkdale Inn Bed and Breakfast can be your home base for exploring and enjoying the Hood River Valley, Mt Hood National Forest and the Columbia River Gorge. After a full day, you'll love the peace and tranquility of the Old Parkdale Inn and we'll get your started with a hearty breakfast. Relax in the gardens, recognized as a Backyard Wildlife Habitat, perhaps with a glass of wine from a bottle you picked up at a local winery or our wine cabinet. We can even have a bonfire, roast some s'mores, if you'd like. Outdoor adventures such as kayaking, windsurfing, skiing, snow boarding, and hiking await. Mt. Hood Meadows, Cooper Spur Mountain Resort, and Timberline Ski areas are only a short drive away, as is the vast Mt. Hood National Forest where trails and wildlife abound. Reserve your stay now.