February 26, 2017
Big Art Walking Tour in Hood River Oregon
By: Mary Pellegrini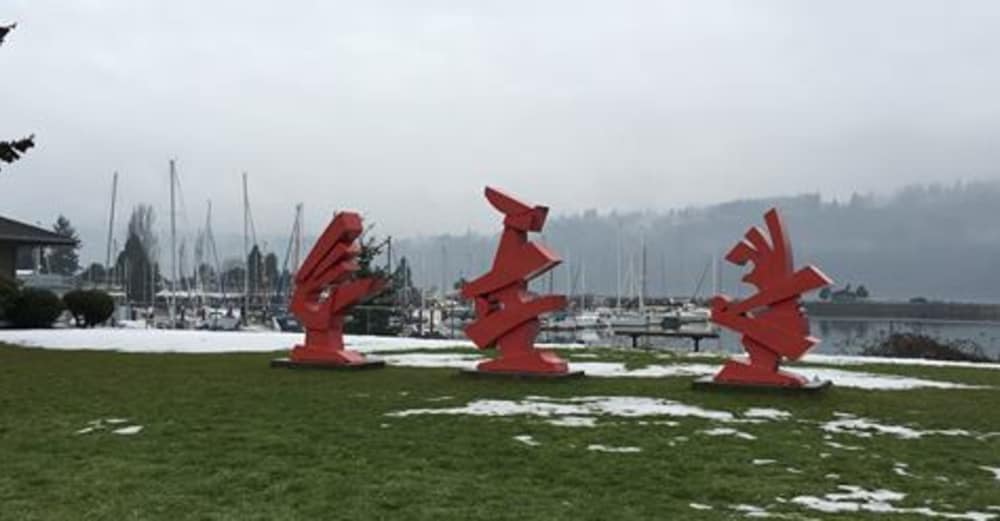 Big Art Walking Tour is a 4.5 mile walking tour of public art in Hood River. Big Art is a rotating collection of impressive sculptures on loan from, and some for sale by, regional artists. The art walk takes you through town to popular parks and businesses.
Established in 2014, Art of Community 'inspires community engagement and helps create a sense of place, awareness, optimism, discussion, and identity throughout the Gorge.' Artists Cathleen Rehfeld, Karen Watson, Mark Nilsson and CJ Rench had a vision 'to build on the unique relationship between the Gorge community and it's talented artists, promoting and developing public art throughout the Gorge, making it available to people of all.
While the "Art of Community" works are generally not intended for touching or climbing, at least one piece is kinetic, and designed to move and interact with the viewer or even the elements of wind and sunlight. It's called "House with Round Windows," by Troutdale artist Nicky Falkenhayn, and is located in front of its sponsor's building, Columbia Center for the Arts, Third and Cascade in Hood River, Oregon.
Stop by the Hood River Chamber of Commerce office to pick up a map for the Big Art Walking Tour. While there check out evidence of the rich arts and culture community that is the Columbia River Gorge. The Old Parkdale Inn is but 15 miles from the town of Hood River and the Columbia River Gorge.