April 4, 2019
5 Wildflower Hikes for Soaking up some Sun
By: Mary Pellegrini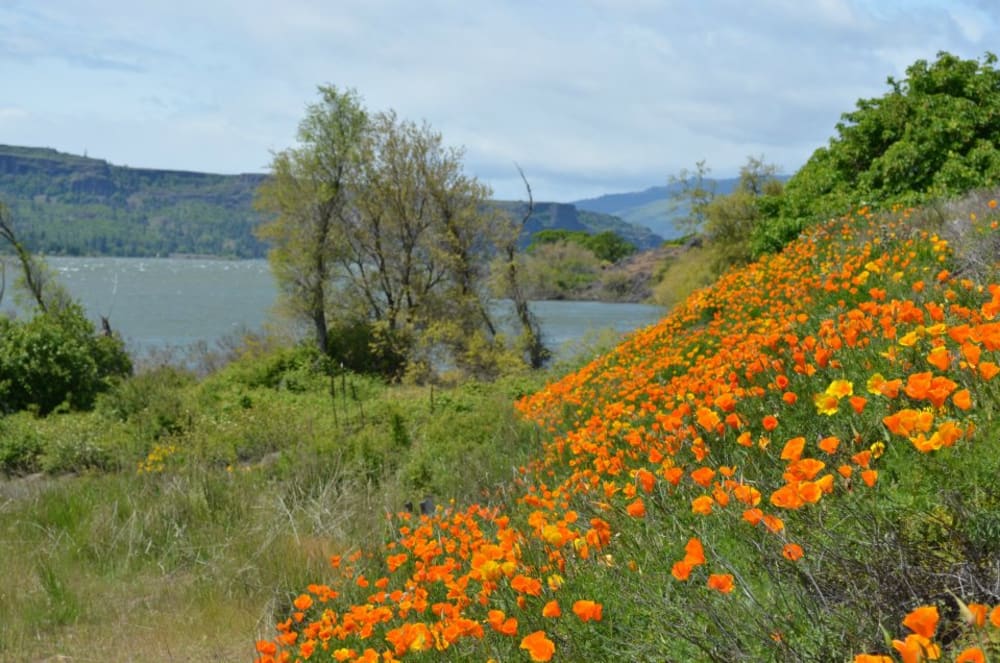 Wildflowers will start popping up across the landscape in the Hood River Valley and the Columbia River Gorge. Spring wildflower hikes are a Gorge specialty you won't want to miss, so plan your wildflower weekend now.
This trail begins in the town of Mosier, follows Mosier Creek up the hill, through a pioneer cemetery, onto the Mosier Plateau. This trail is part of Gorge Towns to Trails project, a comprehensive trail system that wraps around the Columbia Gorge, linking communities with recreation. The trail was completed in the summer 2013 with numerous partners and volunteers. Enjoy!
Parking is on the north side of WA14 where you can pick up trails for longer hikes and more great wildflower and bird viewing. Catherine Creek Trail #4400 is a one mile paved trail with great views of the Columbia River on the south side of WA14. Catherine Creek Arch (1.9m) and Catherine Creek Labyrinth (5.5 miles) trails can be picked up here.

Rowena Plateau Loop

This easy stroll provides stunning views up and down the Gorge. In late spring, the balsam root and other wildflowers are abundant. You can't talk about the Rowena Plateau without talking about the Tom McCall Nature Preserve. The Nature Conservancy has worked to preserve the fauna and flora here. Starting in spring, volunteers lead interpretive hikes.

You'll have stunning Columbia River Gorge Views on these trails, through open grasslands, vernal ponds and oak woodlands. Bring your camera.

As spring turns into summer then fall the upper elevation wildflowers take over the show. Watch for another blog post highlighting them.
Let the Old Parkdale Inn be your home base when exploring the Hood River Valley, Columbia River Gorge or the Mt Hood National Forest. Whether your idea of a good vacation is fresh tracks on Mt Hood or relaxing in our gardens with a good book and your favorite beverage, there's something near by for everyone.