July 27, 2018
Mile 639 of the Oregon Timber Trails in Parkdale, Oregon
By: Mary Pellegrini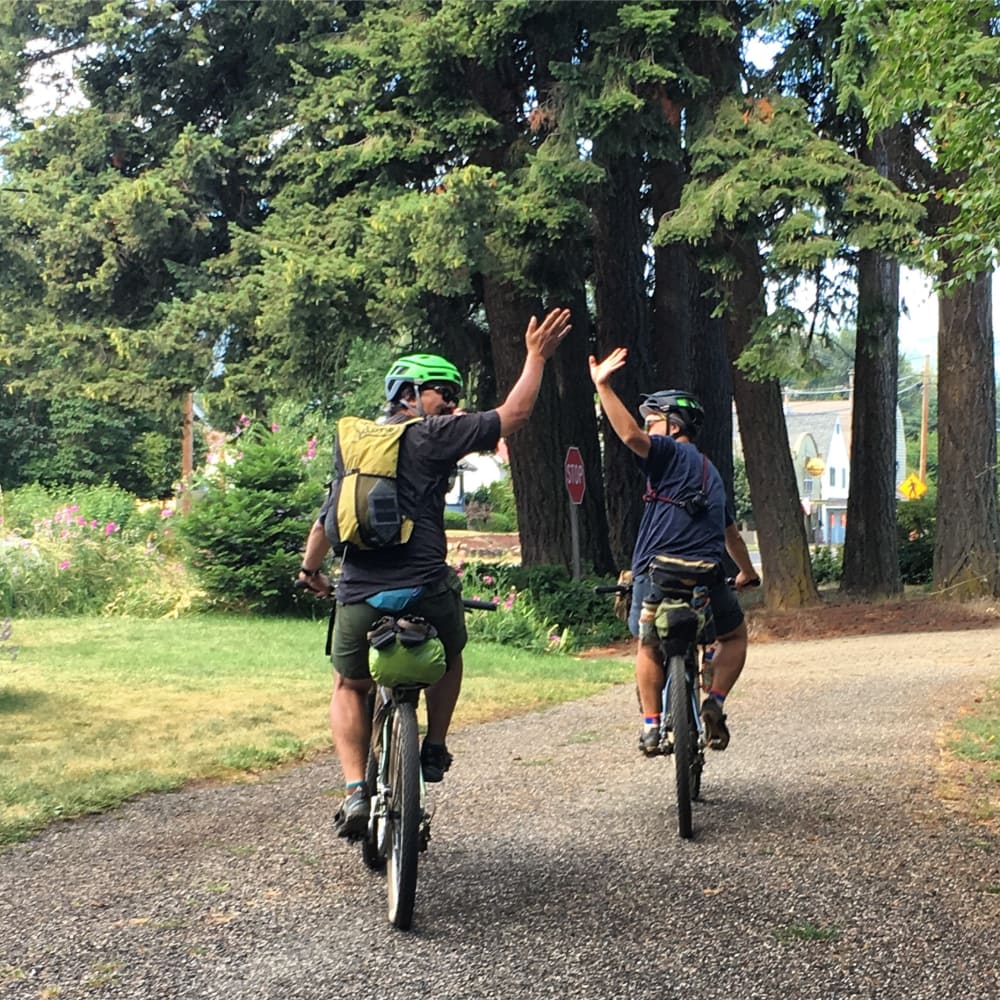 Saying goodbye to Keito and Takashi, OTT riders from Japan
The Oregon Timber Trail is an iconic 670-mile back country mountain bike route spanning Oregon's diverse landscapes from California to the Columbia River Gorge. The Oregon Timber Trail Alliance has identified 9 Gateway Communities that make the Oregon Timber Trail experience possible and Parkdale, Oregon, is one of them, Mile 639.

Old Parkdale Inn is recognized as a lodging option for trail riders on their last night on the trail. Trail riders can choose a hot shower and comfy bed in the inn, when available or a tent spot in our gardens, always available. Tenters will be allowed to use our personal facilities. You can also choose to have breakfast to get you started on your last leg into Hood River or not. Charge devices. Hydrate.
Walk into town, less than two blocks, and choose between Solera Brewery, Apple Valley BBQ or the Blue Canoe for a delicious meal, a cold beer, or a scoop of Tillamook Ice Cream. Moby Coffee Roasters offers Free Trade and Organic coffee in bulk, to go, or in their cozy coffee bar, open Friday, Saturday and Sunday.
Riders are encouraged to sign the Trail Logs, one at each Gateway Community, where you can read accounts of other rider's journeys and add your own stories. We'll have one here at the Old Parkdale Inn.
You can make a tax deductible (#47-3339729) donation to support the Oregon Timber Trail Alliance's mission of stewardship, education, community, and quality trail experiences throughout the Oregon Timber Trail corridor.
Let us be home base for exploring and enjoying the Hood River Valley and Mt Hood National Forest. After a full day, you'll love the peace and tranquility of the Old Parkdale Inn. Relax in the gardens, perhaps with a glass of wine from a bottle you picked up at a local winery or our wine cabinet. We can even have a bonfire, roast some s'mores, if you'd like.
Outdoor adventures such as kayaking, windsurfing, skiing, snow boarding, and hiking await. Mt. Hood Meadows, Cooper Spur Mountain Resort, and Timberline Ski areas are only a short drive away, as is the vast Mt. Hood National Forest where trails and wildlife abound. We partner with Timberline Ski Areas allowing us to offer discount lift vouchers to our guests. Stay at the Inn and take advantage of our partnership with Wet Planet Whitewater to receive $10 your raft adventure.