June 29, 2016
The 2016 Hood River Valley Cherry Crop
By: Mary Pellegrini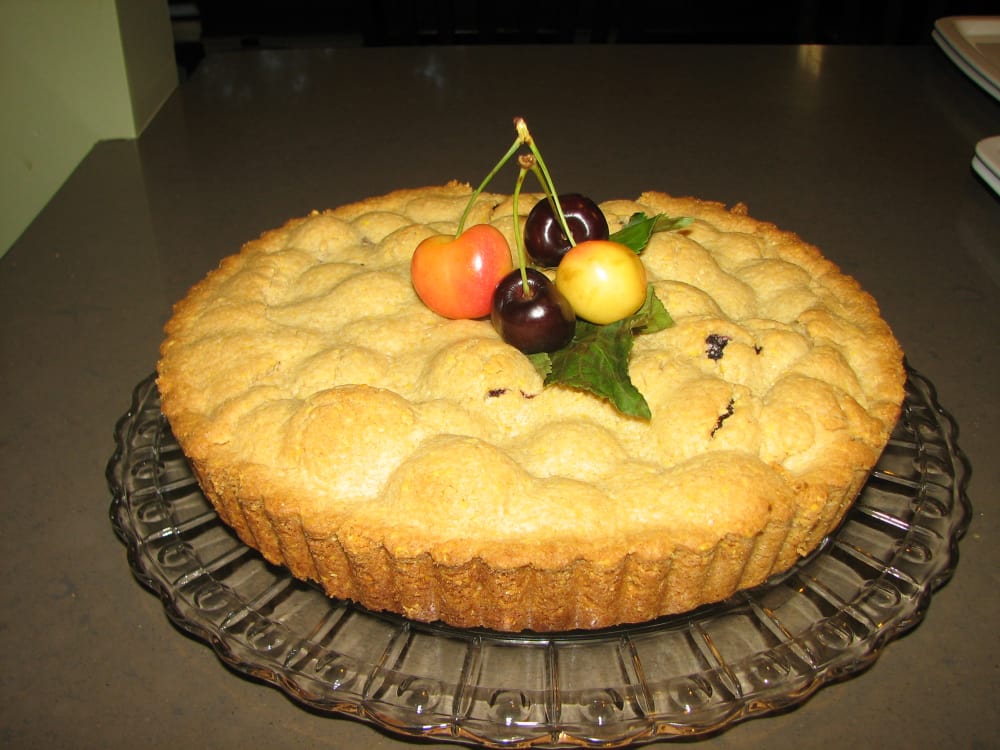 The 2016 Hood River Valley cherry crop is amazing and a few weeks ahead of normal harvest time. We have been picking up about 10 pounds of fresh cherries every few days from the local fruit stands and they become the main ingredient in many a tasty breakfast treat. Over the next couple of weeks we'll be making cherry crepes, cherry scones, cherry cobblers and of course placing big bowls of cold, crisp cherries on the table to nibble on before, during and after breakfast.
One of our guests' favorite though, is the Double-Crust Cherry Tart and as promised here is the recipe.
1 cup (1/2 lb.) butter, at room temperature
2 large egg yolks
2 1/2 cups all-purpose flour
2/3 cup yellow cornmeal
1 tsp. baking powder
1/4 tsp. salt
1 1/2 pounds fresh cherries, rinsed and pitted
2 Tbs. quick-tapioca
1 Tbs. lemon juice
In a bowl, with a mixer on medium speed, beat butter with 3/4 cup sugar until smooth. Beat in egg yolks. Stir in flour, cornmeal, baking powder, and salt until well blended. Divide dough in half. Press one portion over bottom and up sides to rim of a 9-inch tart pan with removable rim. Place other portion on a lightly floured piece of waxed paper. Set aside.
In another bowl, mix cherries, tapioca, lemon juice and remaining 1/4 cup sugar. Let stand for 10 minutes as you roll out second portion of dough with a lightly floured rolling pin into a 10-inch round.
Pour cherries into tart shell. Invert round over cherries. Press edges into rim of tart pan, pinching off any excess. Sprinkle tart lightly with sugar. Place tart pan on a baking sheet and bake on the lower rack of a 375 degree oven until top is golden brown, about 35-40 minutes.