July 14, 2017
Summertime at Mt Hood Ski Resorts
By: Mary Pellegrini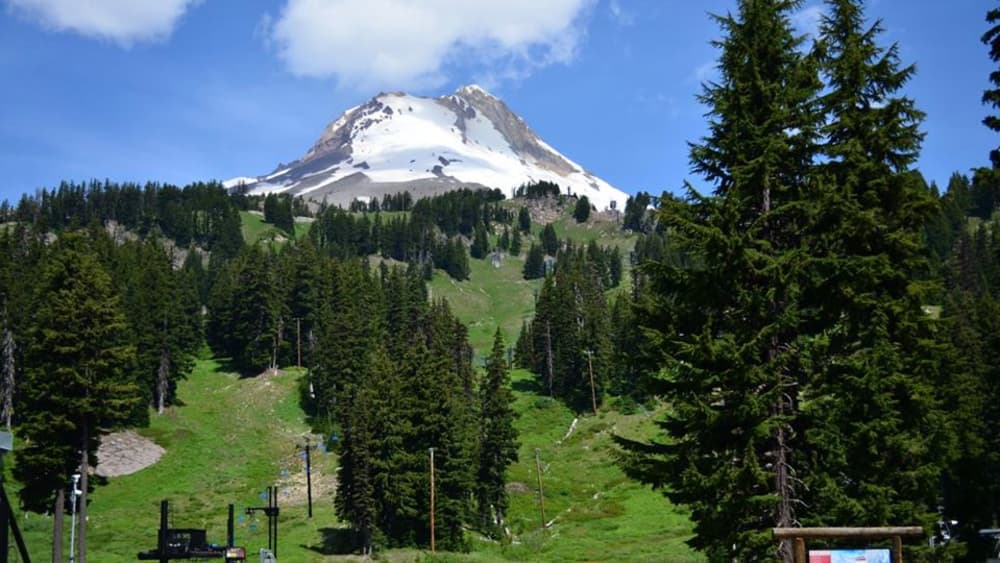 Winter snow sports shift into Summer adventures and events at an Oregon Ski Area. Did you know you can summer ski on the Palmer Glacier at Timberline Lodge?
Mt. Hood: Skibowl
Skibowl is a playground for the whole family, with more than 20 attractions including zip lines, the Malibu Raceway, a bungee tower, mini golf, disc golf and a kiddie canoe. Guided tours and equipment rentals for kayaking, paddle boarding, canoeing, whitewater rafting, rock climbing, fishing and even hiking and waterfall exploring.
Mt. Hood: Timberline Lodge
Timberline Lodge has the longest ski season in North America. Take the Palmer Express high-speed quad lift to ski or snowboard through Labor Day. Explore the mountain's biking and family-friendly hiking trails. During the daytime, the U.S. Forest Service gives free 45-minute tours of the Lodge. And the Magic Mile Sky Ride offers spectacular views of Mt Hood and the Oregon Cascades to the south. Mountain Music Festival on September 4th will cap the season with hot tickets in the local and national acoustic, bluegrass and folk music festival scene.
Mt. Hood: Hood Meadows
Mt.Hood Meadows comes alive on Saturdays and Sundays this summer, starting with an Uphill Challenge on August 5th and the Hood River Valley Wine Festival, August 19th. In between, hop on a $10 chairlift ride to soak up the sunshine and view the wildflowers below and Mt. Jefferson and Three Sisters on the horizon. There's also the a hiking photography workshop (August 12 ), Mutts on the Mountain (August 26) and Paint Night (August 12). An acoustic concert series lineup is also coming soon.
Let the Old Parkdale Inn be your home base when exploring the Hood River Valley, Columbia River Gorge or the Mt Hood National Forest. Whether your idea of a good vacation is fresh tracks on Mt Hood or relaxing in our gardens with a good book and your favorite beverage, there's something near by for everyone.