March 25, 2020
Spring and Summer Birds are returning to the Old Parkdale Inn Gardens
By: Mary Pellegrini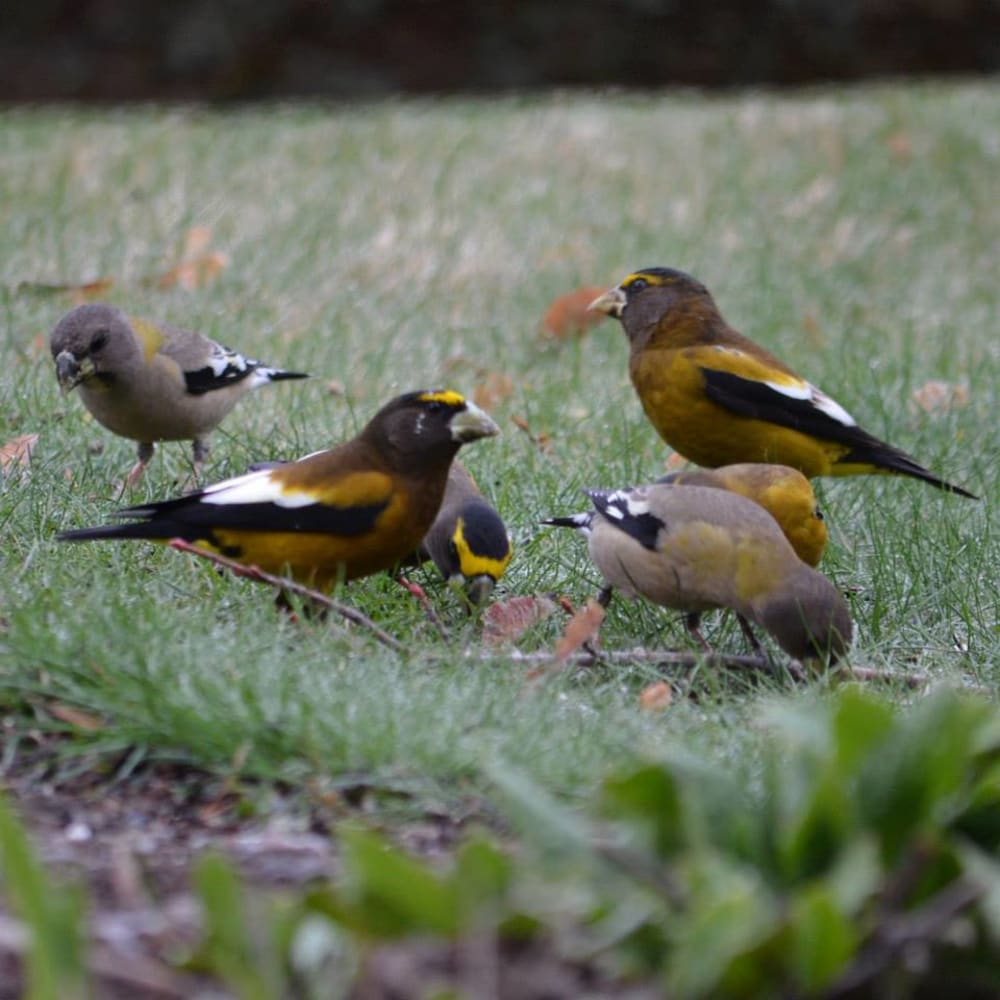 We have many birds that spend the winter with us here in the gardens of the Old Parkdale Inn. We keep the feeders available to satisfy the finches, juncos, chickadees and nuthatches. Collared Doves, Towhee, Quail and a jay or two also frequent the seed blocks. The numbers of all these birds has been increasing and it's nice to see the summer plumage returning on the Finches. I must confess though our favorite spring bird is the Evening Grosbeak. Such a stunning bird.
Our feeders sit right outside our dining room so guests can watch the flurry of activity during morning breakfast. The gardens of the Old Parkdale Inn Bed and Breakfast have been recognized as a Backyard Wildlife Habitat by the National Wildlife Foundation. We've obtained this recognition by providing feed, water, shelter and nesting provisions for the many species of birds that visit our gardens. If you'd like to spend the night at the Old Parkdale Inn Bed and Breakfast and get front row seating at our dining room table, give us a call or book direct online
During the COVID-19 pandemic our open status has moved forward with information provided to us by the CDC and the Oregon Health Authority. We are putting more proactive and preventive measures in place so the Old Parkdale Inn will remain a place of rejuvenation for those seeking space to breathe and relax.
With guidance from the Oregon Health Authority we are focusing our attention on enhanced routine cleaning in preparation of your arrival and will only allow one room to be booked at any given time. Less guest traffic means less co-mingling in the halls and common spaces. All services, include breakfast and beverages will be in-room. We are committed to providing refuge for those of you who need a safe and clean space to ride out this pandemic. We will reduce our rates by 10% until we can resume the full service our guests have come to expect.
If you'd like to support our Inn during this difficult time please consider purchasing a gift certificate for yourself or loved one. Or let's remain optimistic and book a future stay. This won't last forever.
Let us be home base for exploring and enjoying the Hood River Valley and Mt Hood National Forest. After a full day, you'll love the peace and tranquility of the Old Parkdale Inn. Relax in the gardens, perhaps with a glass of wine from a bottle you picked up at a local winery or our wine cabinet. We can even have a bonfire, roast some s'mores, if you'd like. We now have EV and Tesla Chargers for guest use.
Outdoor adventures such as kayaking, windsurfing, skiing, snow boarding, and hiking await. Mt. Hood Meadows, Cooper Spur Mountain Resort, and Timberline Ski areas are only a short drive away, as is the vast Mt. Hood National Forest where trails and wildlife abound. We partner with Mt Hood Meadows and Timberline Ski Area, offering multi-night packages and access to discounted lift tickets. Stay at the Inn and take advantage of our partnership with Wet Planet Whitewater to receive $10 your raft adventure.