October 30, 2020
Spectacular Fall in the Hood River Valley
By: Mary Pellegrini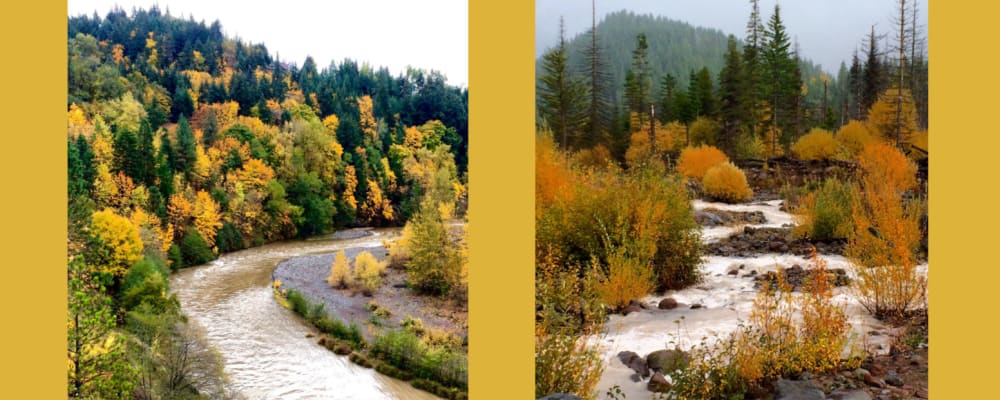 I drove into Hood River a couple weeks back and the Fall Foliage was beginning. But what a difference a couple of weeks make.
It really is spectacular. Today we took one of our favorite fall drives, up to the Cooper Spur Ski Area, the road looping around, meeting up with Hwy 35, then back to Parkdale. As we climbed out of the Hood River Valley, up into the Mt Hood National Forest, the maples and cottonwoods make were quite vibrant. Up at the higher altitudes most of the leaves were off these trees but the Larch were in full color, such a lovely coppery orange. In our own yard, are the maples, birch, and warm copper colored Mountain Ash, laden with red berries that the robins are loving. With the cool yet mild weather we are having we are sure to have a couple more weeks of color before our world turns to evergreen and white.
We've been taking daily walks up the Oak Ridge trail where open stands of the Oregon White Oak are putting on a beautiful autumn display of color along with the maples, ash, and others and bold backdrop of the pines and firs.
Let us be home base for exploring and enjoying the Hood River Valley and Mt Hood National Forest. After a full day, you'll love the peace and tranquility of the Old Parkdale Inn. Relax in the gardens, perhaps with a glass of wine from a bottle you picked up at a local winery or our wine cabinet. We can even have a bonfire, roast some s'mores, if you'd like.
Outdoor adventures such as kayaking, windsurfing, skiing, snow boarding, and hiking await. Mt. Hood Meadows, Cooper Spur Mountain Resort, and Timberline Ski areas are only a short drive away, as is the vast Mt. Hood National Forest where trails and wildlife abound. We've created some enticing packages for your Stay Play and Ski Vacation on Mt Hood. During the summer months stay at the Inn and take advantage of our partnership with Wet Planet Whitewater to receive $10 off your rafting adventure.