October 9, 2020
Small Business Saturday November Celebration at the Old Parkdale Inn 
By: Mary Pellegrini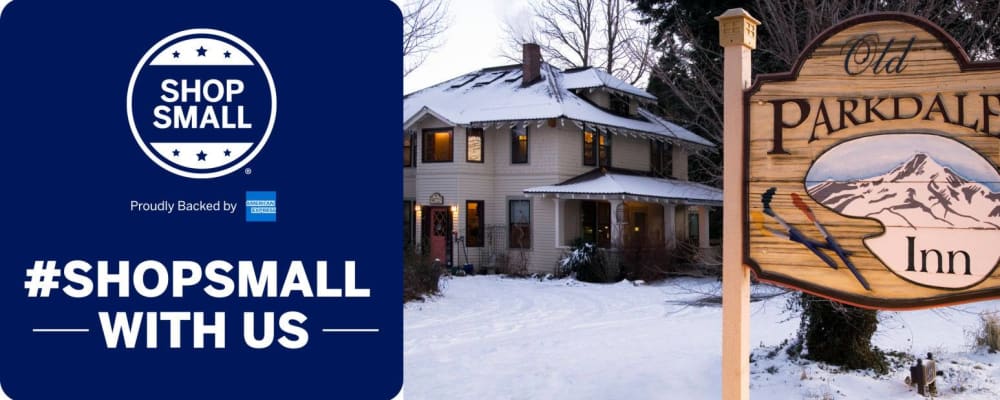 Shopping Small adds up to Big Things. The coronavirus and our state's wildfires have upended daily life in Oregon, with travel and tourism being the hardest-hit industries. Small businesses have been crippled and are counting on all of us to rebuild, promote, and sustain our resilient communities.
We'd like to share what's not to miss in our community of Mt Hood Parkdale, extending a show of small business camaraderie and economic optimism.
Outdoor Dining with a View:
Solera Brewery ~ a short block walk from the Inn leads to the Beer Garden of Solera Brewery. They've some pretty cool signature items, too like tees, mugs, caps, hoodies and more
Shopping for gifts or for yourself
Lady Fern: Local Art. Gifts. Creators Workspace.

Fresh fruit and the yummies made with it:
Kiyokawa Orchards: In addition to the seasonal fruit, Kiyokawa's fruit stand offers turnovers, local honey, jams and fresh cider.
Parkdale is only about 10 blocks square so sometimes we encourage our guests to venture out a bit, drive the Hood River County Fruit Loop and visit the family farms and wineries the perfect gift for you and yours
We'd like to extend an invitation to reserve your room at the Old Parkdale Inn, visit Parkdale and Shop Small on November 28, 2020, any day really, because shopping at a family-owned business such as The Old Parkdale Inn or purchasing specialty items from your favorite local store helps to promote more vibrant communities. We thank you in advance.
Let us be home base for exploring and enjoying the Hood River Valley and Mt Hood National Forest. After a full day, you'll love the peace and tranquility of the Old Parkdale Inn. Relax in the gardens, perhaps with a glass of wine from a bottle you picked up at a local winery or our wine cabinet. We can even have a bonfire, roast some s'mores, wind and weather permitting. We now have EV and Tesla Chargers for guest use.
Outdoor adventures such as kayaking, windsurfing, skiing, snow boarding, and hiking await. Mt. Hood Meadows, Cooper Spur Mountain Resort, and Timberline Ski areas are only a short drive away, as is the vast Mt. Hood National Forest where trails and wildlife abound. We partner with Timberline Ski Area, allowing us to offer discount lift tickets to our guests. Stay at the Inn and take advantage of our partnership with Wet Planet Whitewater to receive $10 your raft adventure.