November 8, 2020
Skillet S'mores Dip
By: Mary Pellegrini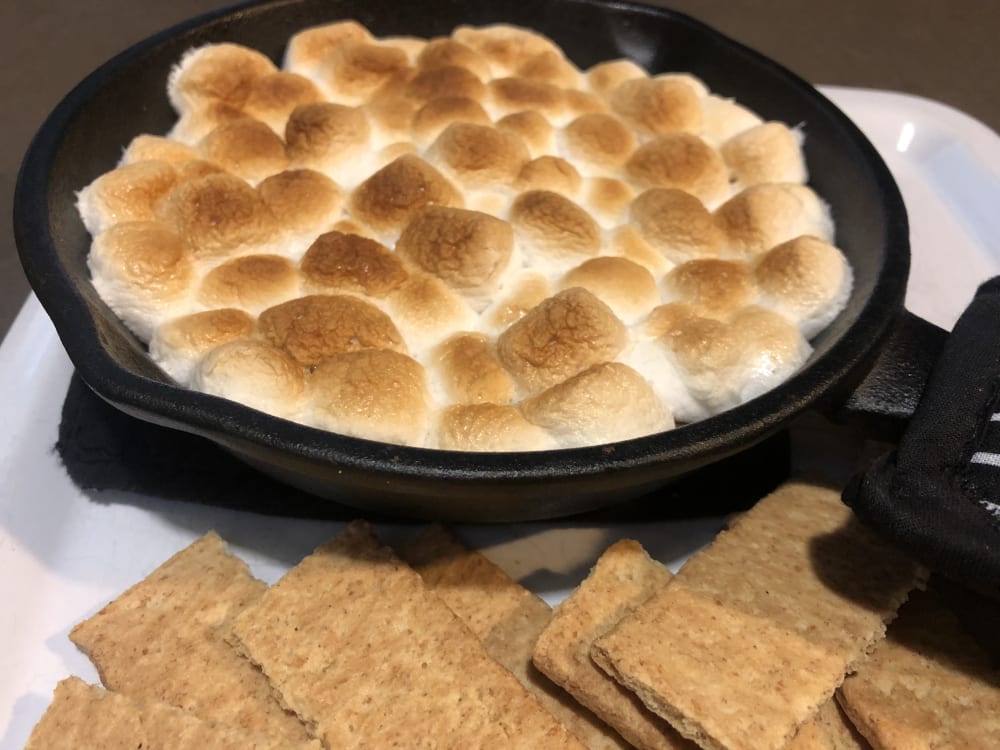 Winter is setting in and while we still can have some tranquil bonfires in the garden for roasting s'mores you might enjoy this sweet treat in your room, wrapped in a comfy robe or throw with a warm beverage or glass of wine.
Preheat oven to 450 degrees Fahrenheit
Place a 6 Inch Skillet inside the preheated oven for 5 minutes
Remove skillet from oven
Melt butter in the skillet, covering the cooking surface evenly
Pour chocolate morsels in the skillet, covering the bottom
Top with marshmallows
Bake for 7-10 minutes, until marshmallows are toasted
Remove from the oven and serve with Graham crackers
Reserve your Stay Now Enhance your stay by adding this sweet treat when making your online reservation.
Let us be home base for exploring and enjoying the Hood River Valley and Mt Hood National Forest. After a full day, you'll love the peace and tranquility of the Old Parkdale Inn. Relax in the gardens, perhaps with a glass of wine from a bottle you picked up at a local winery or our wine cabinet. We can even have a bonfire, roast some s'mores, if you'd like.
Outdoor adventures such as kayaking, windsurfing, skiing, snow boarding, and hiking await. Mt. Hood Meadows, Cooper Spur Mountain Resort, and Timberline Ski areas are only a short drive away, as is the vast Mt. Hood National Forest where trails and wildlife abound. We've created some enticing packages for your Stay Play and Ski Vacation on Mt Hood. During the summer months stay at the Inn and take advantage of our partnership with Wet Planet Whitewater to receive $10 your raft adventure.