October 18, 2019
Pumpkin Cake Roll
By: Mary Pellegrini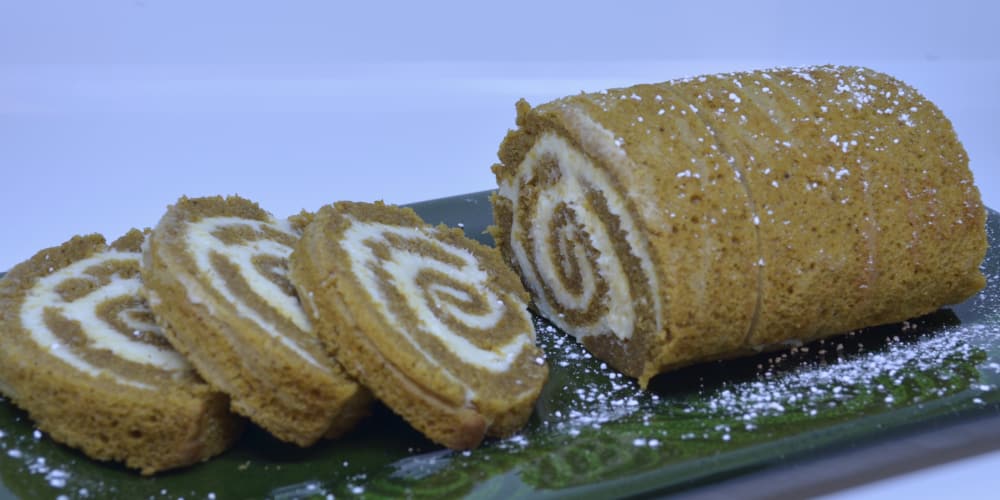 Bring on the pumpkins, apples, pears, and plums. Fall is here!
One of the many things we love about living here in the Hood River Valley is that we have 4 distinct seasons. About the time we've grown weary of one another glorious one begins. We've had a lovely warm summer and now we focus on the abundant harvest in the Hood River Valley and wait for the color show as the acres of fruit trees turn along with a variety of deciduous trees in the Mt Hood National Forest
Pumpkin Cake Roll
INGREDIENTS:
3/4 cup all-purpose flour
1/2 teaspoon baking powder
1/2 teaspoon baking soda
1 teaspoon ground cinnamon
1/2 teaspoon ground ginger
1/4 teaspoon ground nutmeg
1/4 teaspoon ground cloves
1/4 teaspoon salt
3 large eggs
1 teaspoon vanilla extract
1 cup granulated sugar
2/3 cup pumpkin puree

CREAM CHEESE FILLING INGREDIENTS:
1 (8 ounce) brick cream cheese, room temperature
1 cup powdered sugar, sifted
6 tablespoons butter, softened
1 teaspoon vanilla extract

TO MAKE THE PUMPKIN ROLL:
Preheat oven to 375° F.
Whisk together flour, baking powder, baking soda, cinnamon, ginger, nutmeg, cloves and salt in a large mixing bowl until combined. In a separate bowl, whisk eggs and granulated sugar for 1 minute until thick. Add in the vanilla and pumpkin, and whisk until just combined. Fold in the flour mixture with a rubber spatula, and stir together until just combined.
Line a 15 x 10-inch jelly roll pan with parchment paper, leaving an extra 1-inch of parchment sticking up on both 15-inch sides of the pan so that you can easily lift the cake out after baking. Spread the batter evenly into prepared pan. Bake for 13 to 15 minutes, or until top of cake springs back when touched. Carefully lift the parchment paper and cake out onto a flat, and heat safe, surface. Then slowly, use your hands to roll the cake with the parchment paper, rolling from the short end to the short end, until it is completely rolled up. Transfer the cake roll to a wire rack, and cool to room temperature.
While the cake is cooling, make the cream cheese filling: Whisk together cream cheese, powdered sugar, butter and vanilla extract in a mixing bowl until smooth. You want a medium consistency so that the filling is easy to spread, but not too warm or thin that it will ooze out of the cake when you're rolling it up. If the filling is too thin, add more powdered sugar. If it is too thick, add a half teaspoon or two of water.
Once the cake has reached room temperature, transfer the cake roll to a flat surface, and carefully unroll until it is flat again. Spread the cream cheese mixture evenly over cake, leaving a 3/4-inch border on all sides. Then carefully re-roll the cake, gently peeling away the parchment paper as you go. Tightly wrap the pumpkin roll in plastic wrap and refrigerate at least one hour.
Remove and unwrap the pumpkin roll and transfer it to your serving dish. Lightly dust the pumpkin roll on all sides with powdered sugar. Then slice and serve.
Let us be home base for exploring and enjoying the Hood River Valley and Mt Hood National Forest. After a full day, you'll love the peace and tranquility of the Old Parkdale Inn. Relax in the gardens, perhaps with a glass of wine from a bottle you picked up at a local winery or our wine cabinet. We can even have a bonfire, roast some s'mores, if you'd like.
Outdoor adventures such as kayaking, windsurfing, skiing, snow boarding, and hiking await. Mt. Hood Meadows, Cooper Spur Mountain Resort, and Timberline Ski areas are only a short drive away, as is the vast Mt. Hood National Forest where trails and wildlife abound. We partner with Timberline Ski Area allowing us to offer discount lift vouchers to our guests. Stay at the Inn and take advantage of our partnership with Wet Planet Whitewater to receive $10 your raft adventure.