November 27, 2010
Pear and Rogue Creamery Oregonzola Tart with Sweet and Spicy Oregon Hazelnuts in a Phyllo Crust
By: Mary Pellegrini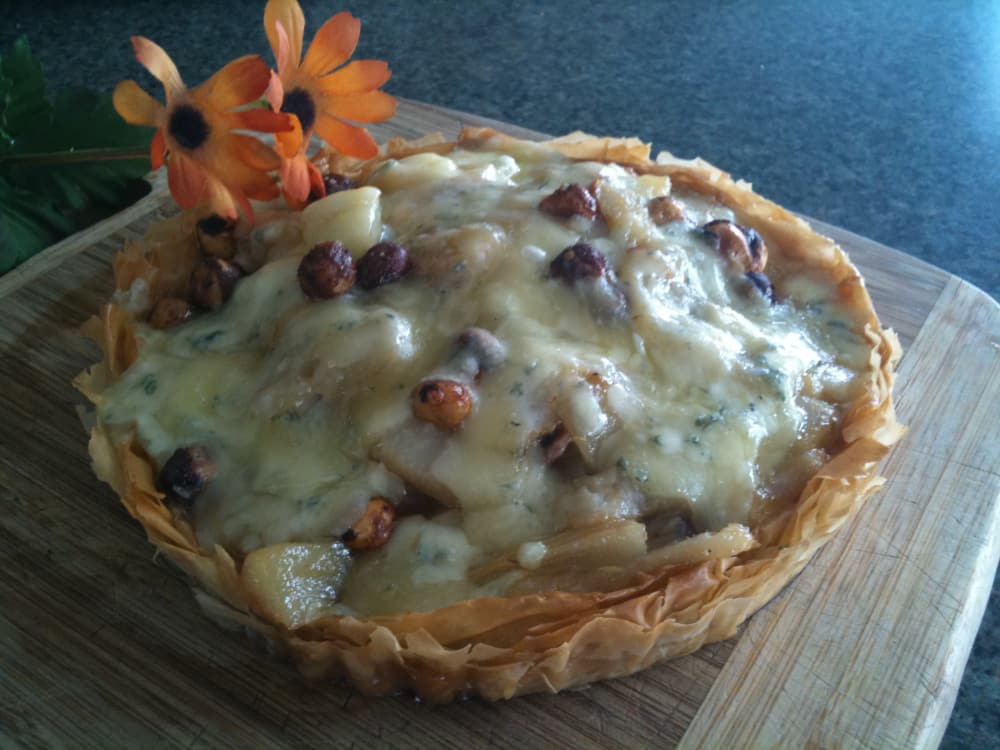 I love watching cooking shows and I watched someone make a tart like this a few months back. Of course, I couldn't remember that particular recipe so I did a web search for a "Pear and Blue Cheese Tart", found many, took the info I could use and created this yummy tart. And after making it once I decided on a few things I would do different the next time. And I will make it again as it was very good.

Pear and Rogue Creamery Oregonzola Tart with Sweet and Spicy Oregon Hazelnuts in a Phyllo Crust
4 Pears ~ I used two Bosc and two Red D'anjou
2 Tbs butter
1/4 cup brown sugar
1/4 pound of Rogue Creamery Oregonzola or any good Blue Cheese
1/2 cup Sweet and Spicy Hazelnuts
Phyllo Crust
Prepare Hazelnuts ~ I purchased nuts that were already roasted but you could certainly roast your own. Chop or slice . Almonds would be another fine choice.
Prepare Crust ~ in a 8″ tart pan with a removable side, arrange phyllo crust so that you end up with about 8 layers. Bake this for 5 minutes in a 375 degree over. Set aside
Prepare Pears ~ peel, core, slice into quarter inch pieces, then cut these into thirds. Melt butter in skillet and when hot add the pears, hazelnuts and brown sugar. Saute just until the sugar is dissolved and the pears are nice and hot.
Prepare Cheese ~ finely chop
Assemble Tart ~ Just minutes before you are ready to serve assemble the tart, starting and ending with Cheese, layering the cheese and pears mixture. Bake for about 10 minutes in a 375 degree oven. Remove from tart pan, arrange on a lovely plate or chopping block, slice into inch slivers, and serve hot as an appetizer or as your after dinner cheese option.