August 11, 2017
Peach Upside Down Cake
By: Mary Pellegrini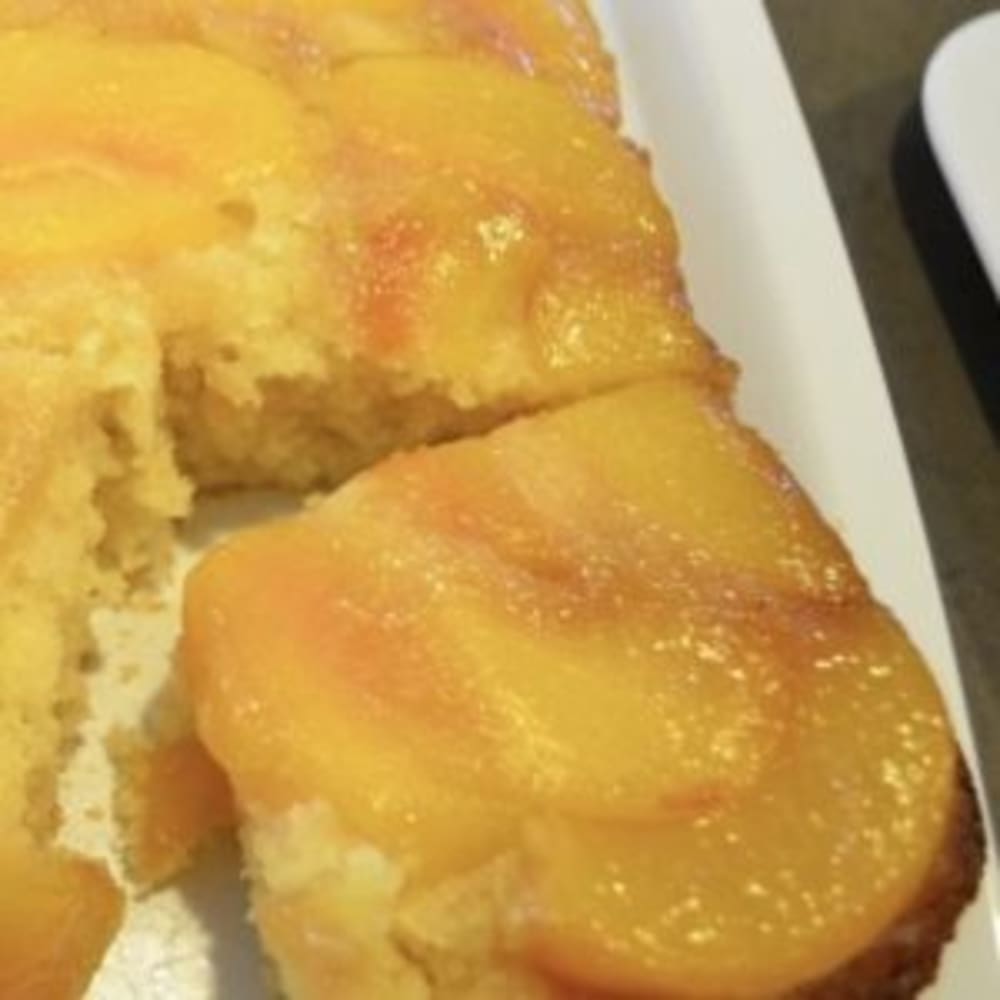 Peach Upside Down Cake served at the Old Parkdale Inn. Peach season is in full swing here in the Hood River Valley. We're having peach scones, peach crepes, peach crisps, peach pancakes. And of course this Peach Upside-Down Cake
Ingredients
1/4

cup butter


1/2

cup packed brown sugar


1 1/2-2

cups sliced, pitted and peeled peaches


1 1/4

cups all-purpose flour


1 1/4

teaspoons baking powder


1/4

teaspoon salt


1/2

cup butter, softened


3/4

cup granulated sugar


1

egg


1

teaspoon vanilla


1/2

cup milk

Directions
Place 1/4 cup butter in an 8x8x2-inch baking pan. Warm in a 350 degrees oven about 5 minutes or until butter is melted. (Be sure to watch carefully to avoid browning the butter). Remove pan from oven. Add brown sugar, stirring until sugar is completely moistened. Spread sugar mixture evenly in pan. Arrange peach slices evenly over brown sugar mixture. Set aside.

In a medium bowl, combine the flour, baking powder and salt; set aside. In a large bowl, beat 1/2 cup butter with an electric mixer on medium to high speed for 30 seconds. Beat in granulated sugar until well combined. Add egg and vanilla, beating until combined. Alternately add the flour mixture and milk to beaten butter mixture, beating on low speed after each addition just until combined. Spread batter evenly over the peaches in the pan.

Bake for 45 to 50 minutes or until a wooden toothpick inserted near the center comes out clean. Cool in pan on wire rack for 5 minutes. Loosen cake from sides of pan; invert onto a large serving plate. Cool for 10 to 15 minutes more. Serve warm.

Let the Old Parkdale Inn be your home base when exploring the Hood River Valley, Columbia River Gorge or the Mt Hood National Forest. Whether your idea of a good vacation is fresh tracks on Mt Hood or relaxing in our gardens with a good book and your favorite beverage, there's something near by for everyone.