June 15, 2016
National Strawberry Shortcake Day
By: Mary Pellegrini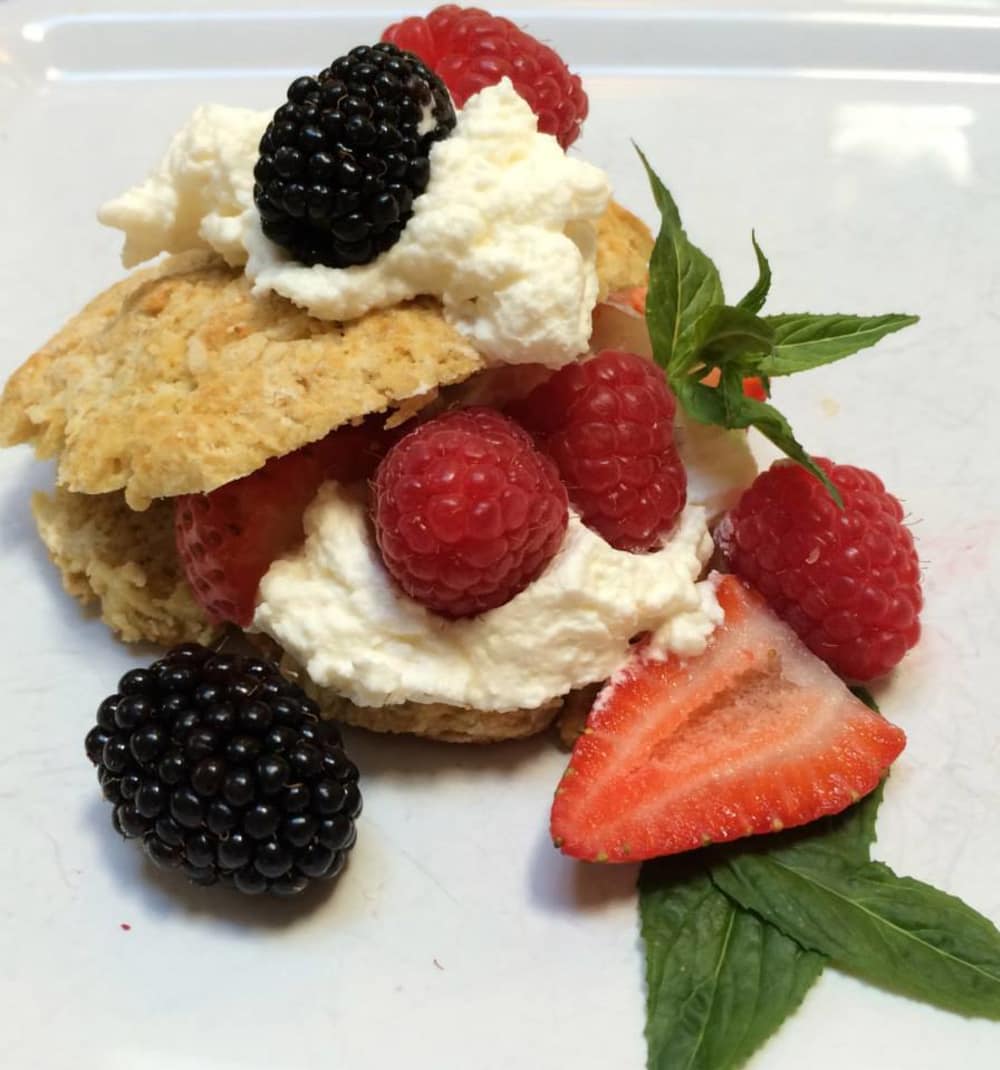 Today is National Strawberry Shortcake Day and let me share with you one of my favorite sweet treats to prepare for our guests at the Old Parkdale Inn. It's fun! It's coloring! And it's Oh So Yummy.
Shortcakes ~ this recipe will make 8 shortcakes. I stretch it a little, making 6 slightly larger cakes, making room for more whipped cream and berries, and perfect for the 6 guests that the Old Parkdale Inn can accommodate.
2 cups all-purpose flour
¼ cup sugar
1 Tbs Grated lemon rind
1 Tbs baking powder
¼ teas salt
¼ cup chilled butter, cut into small pieces
¾ cup half and half
melted butter
2 teas sugar
Preheat oven to 450°
Shortcakes: Whisk flour, sugar, lemon rind, baking powder, and salt in a large bowl. Cut in the chilled butter with a pastry blender until the mixture is a coarse meal. Add half and half and stir just until moist. Don't overwork the dough if you're looking for tender shortcakes. Drop by large spoonfuls onto a baking sheet. Brush with melted butter and sprinkle with sugar. Bake for 15 minutes or until brown
You'll want to mix your berries with 3 tablespoons sugar and a splash of lemon juice then refrigerate while juices develop, at least 30 minutes. In Oregon and the Hood River Valley we are blessed with an abundance of berries: Oregon's child the marionberries, raspberries, strawberries, blueberries being just a few. Use the freshest ones you can find, mix it up.
Try adding a drop of almond extract to the bowl as you whip up some fresh cream. Slice the Shortcake in half horizontally, spoon the berries with their juice onto each shortcake bottom. Top with a generous dollop of whipped cream and then the shortcake top. Garnish with slivered and whole mint leaves, a little more whipped cream and a few more berries.
The Old Parkdale Inn is located in the Upper Hood River Valley on the north slope of Oregon's tallest peak, Mt. Hood, in the quaint town of Parkdale. Outdoor adventure, farms, wineries and fine dining are nearby. Three well appointed rooms with private baths offer complete privacy and the serene gardens are perfect for romantic and restful getaways.
The Old Parkdale Inn Bed and Breakfast can be your home base for exploring and enjoying the Hood River Valley, Mt Hood National Forest and the Columbia River Gorge. After a full day, you'll love the peace and tranquility of the Old Parkdale Inn and we'll get your started with a hearty breakfast. Relax in the gardens, recognized as a Backyard Wildlife Habitat, perhaps with a glass of wine from a bottle you picked up at a local winery or our wine cabinet. We can even have a bonfire, roast some s'mores, if you'd like. Outdoor adventures such as kayaking, windsurfing, skiing, snow boarding, and hiking await. Mt. Hood Meadows, Cooper Spur Mountain Resort, and Timberline Ski areas are only a short drive away, as is the vast Mt. Hood National Forest where trails and wildlife abound.