May 13, 2020
National Apple Pie Day - Why not have a Cookie
By: Mary Pellegrini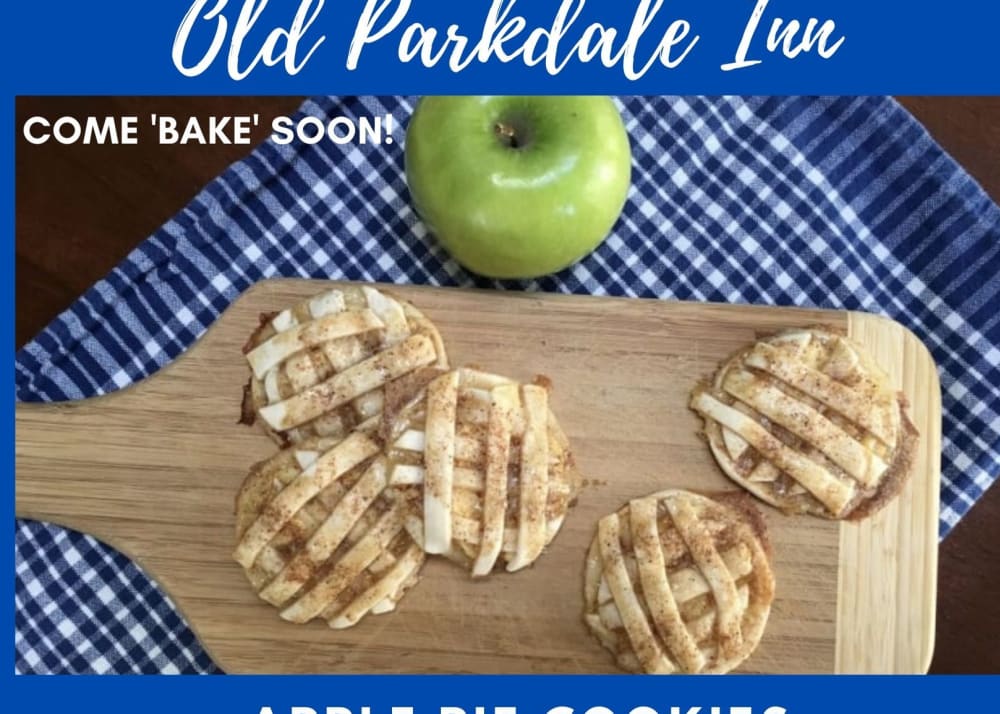 Today is National Apple Pie Day
National Apple Pie Day doesn't necessarily have to be celebrated with an apple pie, right? Why not Apple Pie Cookies? We here at the Old Parkdale Inn Bed and Breakfast put a little spin on the classic apple pie and the results were amazing. For quicker, easier assembly I used refrigerated pie crusts

Like most lodging properties across America we've been shuttered for over two months now. We're honored to be recognized in today's Forbes Magazine article celebrating National Apple Pie Day. Nearly four dozen of these elegant and charming properties are reaching out to their guests, past and future, with digital postcards featuring their own apple dessert recipes and a cinnamon-sweet "Wish You Were Here" sentiment for virtual reconnection during this time of extended social distancing. We are one of the top 12 recipes and properties in the country
Apple Pie Cookies from the Old Parkdale Inn
6 green apples
1 package refrigerated pie crust (2 crusts)
5 ounces caramel sauce
1 egg
1/4 cup sugar
1/4 teaspoon nutmeg
Ground cinnamon
1) Preheat the oven to 350 Fahrenheit. Line a cookie sheet with parchment and non stick spray; set aside.
2) Remove pie crusts from refrigerator so they warm up slightly. This will make them easier to work with.
3) Peel the skin off the green apples, compost. Continue peeling so you have bunch of fleshy, white peels of apple in your bowl.
4) Dust work area with flour and slightly roll out crusts. From one pie crust, cut out circles for the cookies. Cut the second pie crust into 1/2″ strips.
5) Place round pie crusts on cookie sheet. Spread a thin layer of caramel sauce on each cookie, followed by a pile of white apple peels. Using the 1/2" strips, create a tic-tac-toe lattice pattern over each cookie.
6) Beat egg in bowl and add sugar and nutmeg until well blended. Brush cookies with egg wash.
7) Sprinkle cookies with cinnamon. Use more or less cinnamon depending on your preference.
8) Bake for 20 – 25 minutes, or until cookies are a golden brown. Remove from oven, allow to cool for 5 minutes, serve and enjoy!
The Old Parkdale Inn is located in the Upper Hood River Valley, a renowned growing region for pears and apples. Located in the quaint town of Parkdale, Oregon with Oregon's tallest peak, Mt. Hood, as a backdrop. Outdoor adventure, farms, wineries and fine dining are nearby. The complete privacy of the inn and the serene gardens are perfect for romantic and restful getaways.
During the COVID-19 pandemic our open status has moved forward with information provided to us by the CDC and the Oregon Health Authority. We are putting more proactive and preventive measures in place so the Old Parkdale Inn will remain a place of rejuvenation for those seeking space to breathe and relax when we can again welcome guests
If you'd like to support our Inn during this difficult time please consider purchasing a gift certificate for yourself or loved one. Or let's remain optimistic and book a future stay. This won't last forever.
Let the Old Parkdale Inn be your home base when exploring the Hood River Valley, Columbia River Gorge or the Mt Hood National Forest. Whether your idea of a good vacation is fresh tracks on Mt Hood or relaxing in our gardens with a good book and your favorite beverage, there's something near by for everyone.
Outdoor adventures such as kayaking, windsurfing, skiing, snow boarding, and hiking await. Mt. Hood Meadows, Cooper Spur Mountain Resort, and Timberline Ski areas are only a short drive away, as is the vast Mt. Hood National Forest where trails and wildlife abound. We partner with Timberline Ski Areas allowing us to offer discount lift tickets to our guests. Stay at the Inn and take advantage of our partnership with Wet Planet Whitewater to receive $10 your raft adventure