October 15, 2017
Making Butter with Hood River Valley Pears in the Crockpot
By: Mary Pellegrini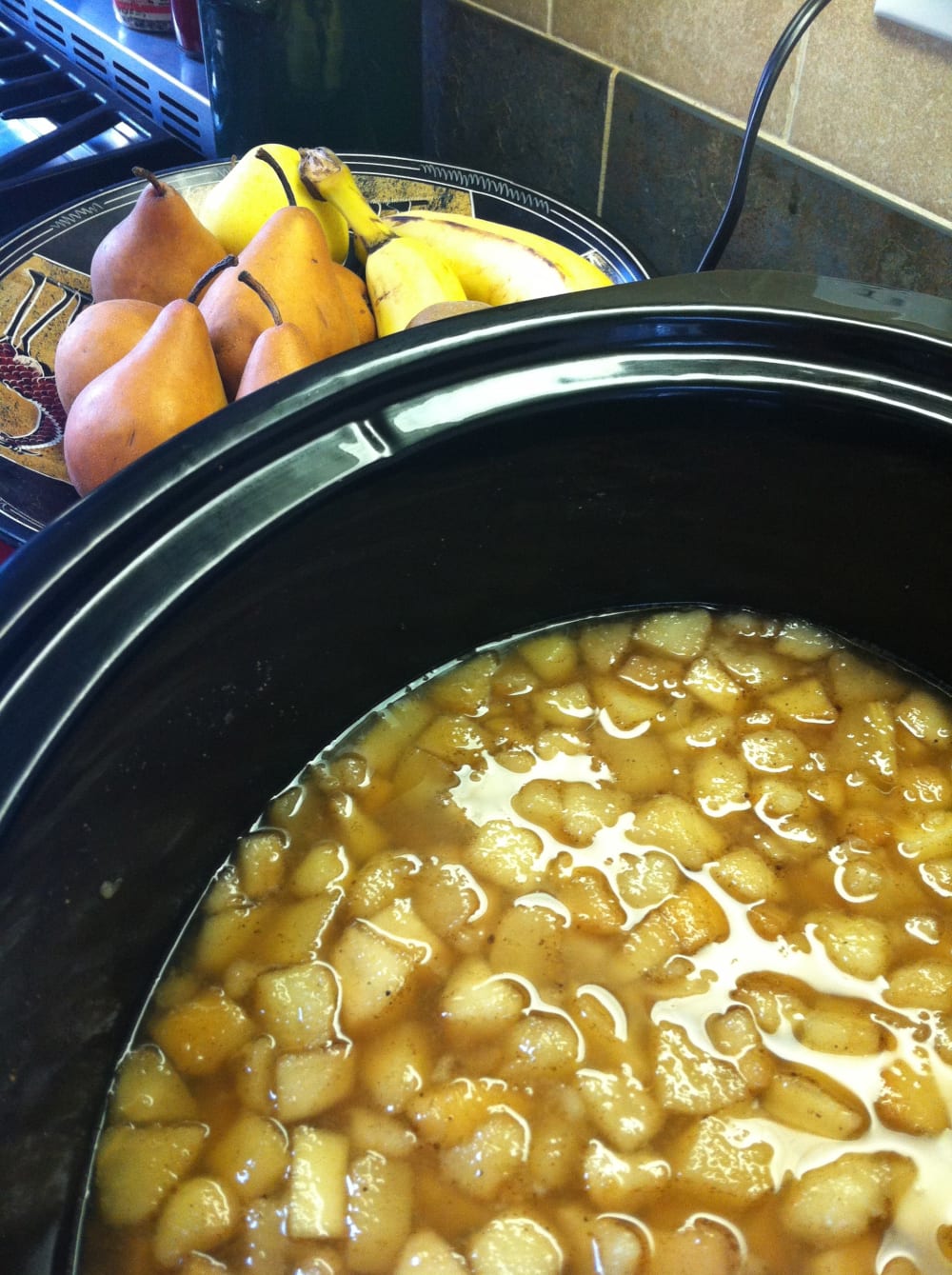 Slow cooking pears in the crockpot sure makes the inn smell wonderful. I start with about 5-7 pounds of pears from the Hood River Valley. With so many growers we have the pick of the crop for the very best Pears in the World! The Hood River Valley is the largest pear growing region with over 2.4 million fruit trees, not all pears, apples, peaches, cherries, too.
For my last batch of Pear Butter I used about half Bosc and half Anjou, two of my favorites. I diced them into half inch cubes, filling my 6 quart crock pot to the top. Then I added about a quart of Ryan's Apple Cider, half cup of brown sugar, cinnamon, cardamom, ginger, nutmeg and cloves. Sorry I never measure, just add a little at a time until I get the flavor I'm looking for. The cider gives the pears something to cook down in, but don't worry, most of the liquid will cook out, leaving the sweet taste of fruit.
I cooked this down, on high, for about 4 hours. Depending on what type of pears you use will determine if your sauce will have the ability to stay chunky. At this point you can choose to put all in the blender to puree, creating the butter, or leave it as is. After you've pureed, return it to the crock pot, turn it down on low, leave the lid off and let it cook on down. Same process, minus the puree, to create more of a pear compote. I usually start the process after serving breakfast to our guests and let it cook all night. I present it on the table to be used on fresh fruit scones or apple/pear pancakes and waffles.
Plan your fall vacation now to the Hood River Valley and the Old Parkdale Inn, to pick up your pears and apples. The Hood River County Fruit Loop is a 35-mile, scenic drive through the valley's orchards, forests, farmlands, and friendly communities.
Let the Old Parkdale Inn be your home base when exploring the Hood River Valley, Columbia River Gorge or the Mt Hood National Forest. Whether your idea of a good vacation is fresh tracks on Mt Hood or relaxing in our gardens with a good book and your favorite beverage, there's something near by for everyone.