July 18, 2019
Hiking in the Mt. Hood National Forest
By: Mary Pellegrini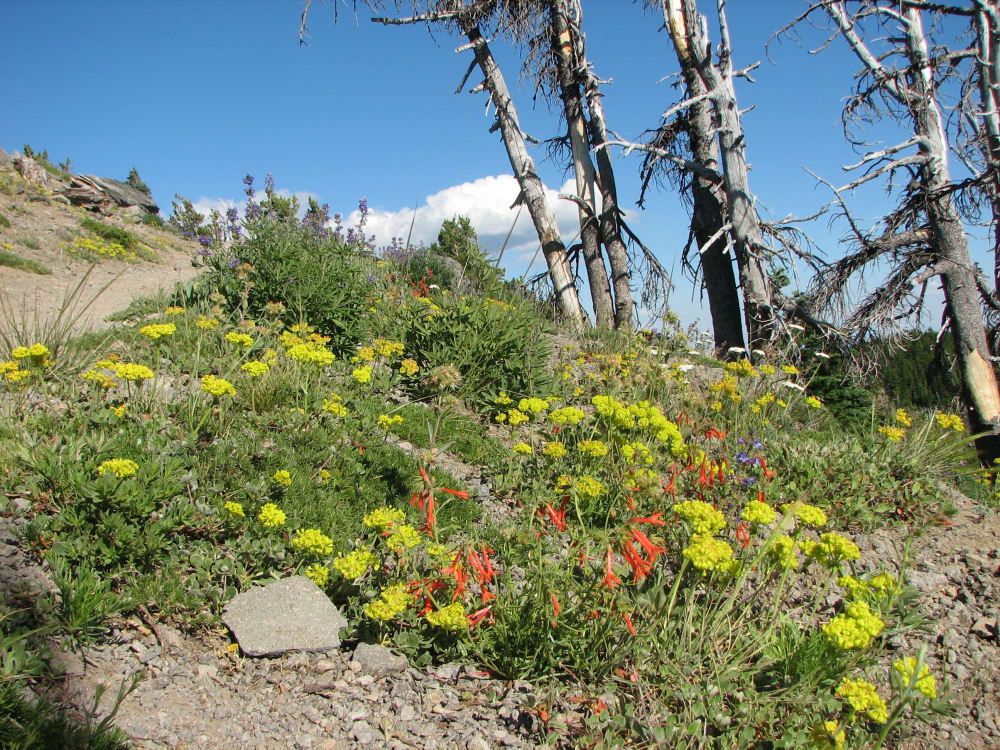 The Old Parkdale Inn is only minutes from the Mt Hood National Forest. We like to think of it as our own personal backyard playground. We hike, swim and snowshoe here. Sometimes we just find a very quiet spot to sit and be still. We found such a spot on Lookout Mountain when we hiked the High Prairie Trail.
The High Prairie trail lives up to its name. The trail starts at the 5963′ elevation climbs through High Prairies to the 6525′ peak of Lookout Mountain. The foundation for the look out still remains and you can see why this was the perfect spot for a fire lookout station. An amazing 360 degree view of the Cascades down to the Three Sisters, up into Washington, vistas of St Helens, Rainer, and Mt Adams, and out into the sweeping plains of Eastern Oregon. An easy hike a so worth the climb. The high altitude wildflower display was an added bonus. After the flurry of photo ops we just sat, quietly, in awe! So Many trails, so little time!
Let us be home base for exploring and enjoying the Hood River Valley and Mt Hood National Forest. After a full day, you'll love the peace and tranquility of the Old Parkdale Inn. Relax in the gardens, perhaps with a glass of wine from a bottle you picked up at a local winery or our wine cabinet. We can even have a bonfire, roast some s'mores, if you'd like.
Outdoor adventures such as kayaking, windsurfing, skiing, snow boarding, and hiking await. Mt. Hood Meadows, Cooper Spur Mountain Resort, and Timberline Ski areas are only a short drive away, as is the vast Mt. Hood National Forest where trails and wildlife abound.