June 23, 2016
Extraordinary Pancakes at the Old Parkdale Inn
By: Mary Pellegrini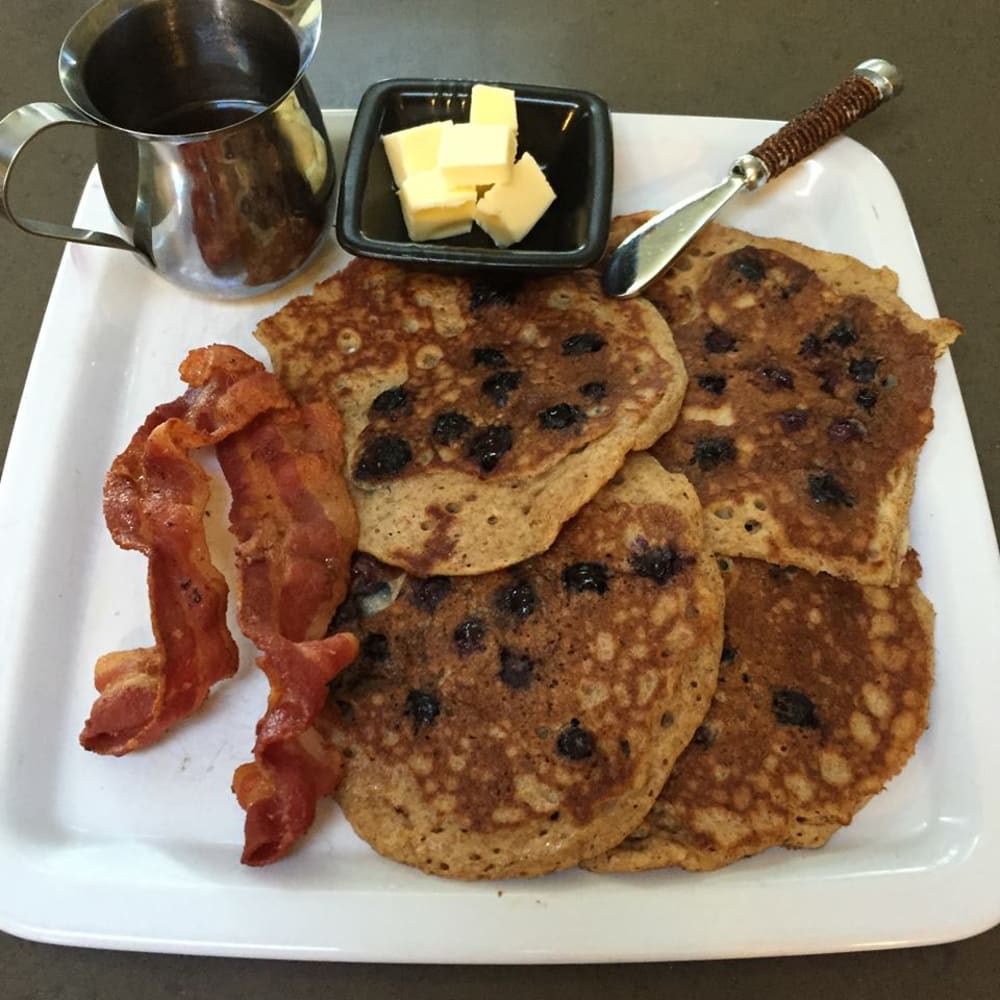 Extraordinary pancakes are a thing at the Old Parkdale Inn Bed and Breakfast and we serve them up hot-off-the-griddle often throughout the year. Not just your ordinary pancakes but extraordinary pancakes! We like to mix it up. Yesterday we received 12 pints or organic Blueberries through our CSA, Hood River Organics, one of our local Community Supported Agriculture groups.
The Hood River Valley has acres and acres of Blueberry Farms scattered among the Pear, Cherry and Apple orchards. Harvest came early this year and last for about 5-6 weeks. During that time we serve up everything Blueberry: Lemon Blueberry Biscuits, Blueberry Buckle, Fresh Berry Shortcakes, Berry Compote to put on top of Blueberry Pancakes of course.
We freeze quite a few pounds for use through the winter. Last spring my dear neighbor gave me a sourdough starter. Now we make pancakes at least once a week using this tangy Sourdough Starter.
Sourdough Blueberry Pancakes at the Old Parkdale Inn:
The night before:
cup of sourdough starter
1 cup warm water
1 1/2 cup whole wheat flour
Mix well and let ferment overnight
Reserve one cup starter and to remaining batter add:
1 egg
1/2 teaspoon baking soda
1 Tbs sugar
2 Tbs oil
about a half cup of milk
whole wheat flour as needed
This morning we added the juice from one lemon, about a tablespoon of lemon zest and a half cup of ricotta:
Lemon Ricotta Sourdough Pancakes.
When the griddle is hot and buttered up, pour on the batter. I like to add the blueberries to the pancakes on the griddle before flipping. Adds a bit of flair to the presentation. Serve hot-off-the-griddle with a fresh berry compote. Blueberry compote was the topping this morning or make one with a combination of berries: 2 cups of blueberries, cherries, strawberries, raspberries, what fruit is available. Put fruit in a saucepan, add a little cranberry juice, 1/4 cup brown sugar, 1/2 teaspoon vanilla or fruit liquor. Throw a few fresh blueberries on top. The best!
The Old Parkdale Inn Bed and Breakfast can be your home base for exploring and enjoying the Hood River Valley, Mt Hood National Forest and the Columbia River Gorge. After a full day, you'll love the peace and tranquility of the Old Parkdale Inn and we'll get your started with a hearty breakfast. Relax in the gardens, recognized as a Backyard Wildlife Habitat, perhaps with a glass of wine from a bottle you picked up at a local winery or our wine cabinet. We can even have a bonfire, roast some s'mores, if you'd like. Outdoor adventures such as kayaking, windsurfing, skiing, snow boarding, and hiking await. Mt. Hood Meadows, Cooper Spur Mountain Resort, and Timberline Ski areas are only a short drive away, as is the vast Mt. Hood National Forest where trails and wildlife abound.