December 21, 2019
Don't Pass Snow Plows on the Right ~ Duh!
By: Mary Pellegrini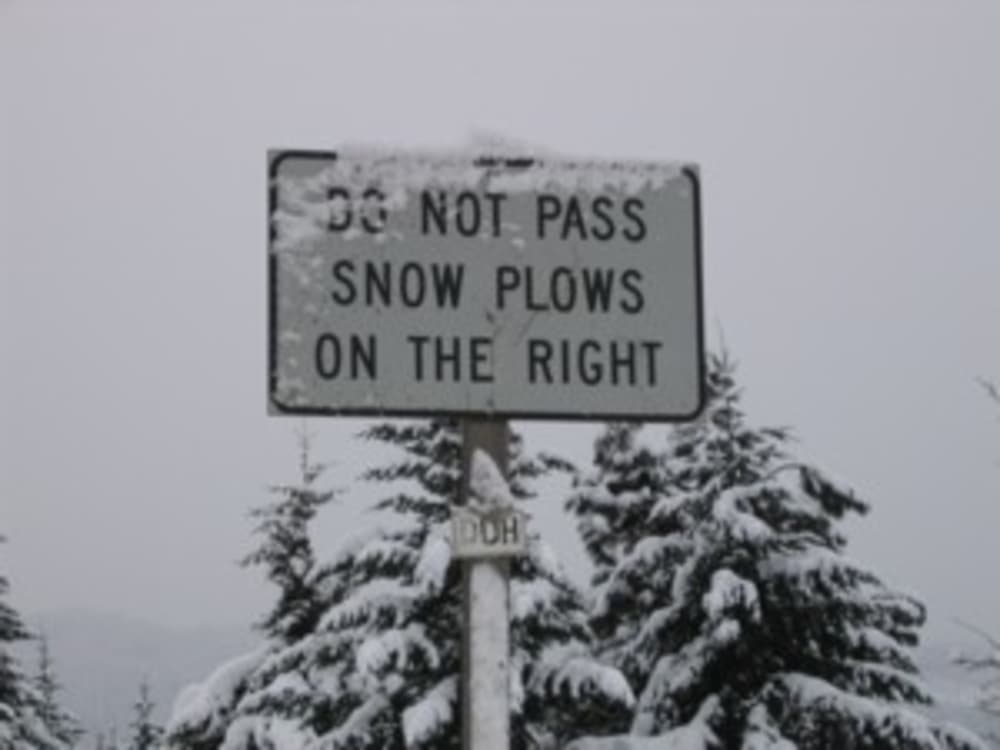 A couple years back someone tacked this added message below the warning sign that really states the obvious. Be prepared when exploring Oregon during the winter months. And don't always rely on that GPS. Many forest roads, while beautiful alternatives from the main highways and freeways during the snow free months, are not maintained during the winter.
Travelers should be aware that even a few inches of snow can obscure icy roads and soft shoulders where vehicles can become stuck. Winter storms can trigger unexpected rock slides, and falling limbs and trees; they can quickly change driving conditions on forest roads from passable to impassable in a matter of minutes.
Keys to safe winter driving: Plan for the unexpected. Keep in mind that cell phones may not work in remote areas. Check the latest road and weather conditions at TripCheck.com or dial 511 before heading out. Always tell someone where you're going and stick to that plan. Carry an emergency kit in your vehicle. Travelers should be prepared to spend long periods of time in the car. Blankets or sleeping bags, warm clothes, a snow shovel, water, food and other necessities are recommended as part of a complete vehicle emergency kit. Always fuel up at the beginning of the trip.
Weather can change quickly, particularly in higher elevations. Good snow tires, a 4-wheel drive vehicle, and chains are advised or often required, when driving in winter conditions. As a general rule, always adjust your speed to current conditions and drive at speeds that allow you to stop in half of the visible road distance ahead of you.
Helpful information about planning a trip to a national forest during the winter months can be found on the Know Before You Go webpage at go.usa.gov/Cmq.
ODOT and the Hood River County Maintenance Crews do an amazing job keeping Highways 26 and 35 through the Hood River Valley, around Mt Hood and through the Mt Hood National Forest passable. They plow, they de-ice and sand but it is our job to use a little common sense, stay on roads maintained during the winter months, and drive cautiously to make sure we reach our destination safely.
Let us be home base for exploring and enjoying the Hood River Valley and Mt Hood National Forest. After a full day, you'll love the peace and tranquility of the Old Parkdale Inn. Relax in the gardens, perhaps with a glass of wine from a bottle you picked up at a local winery or our wine cabinet. We can even have a bonfire, roast some s'mores, if you'd like. We now have EV and Tesla Chargers for guest use.
Outdoor adventures such as kayaking, windsurfing, skiing, snow boarding, and hiking await. Mt. Hood Meadows, Cooper Spur Mountain Resort, and Timberline Ski areas are only a short drive away, as is the vast Mt. Hood National Forest where trails and wildlife abound. We partner with Mt Hood Meadows and Timberline Ski Area, offering multi-night packages and access to discounted lift tickets. Stay at the Inn and take advantage of our partnership with Wet Planet Whitewater to receive $10 your raft adventure.