April 2, 2020
Breakfast Quesadillas at the Old Parkdale Inn
By: Mary Pellegrini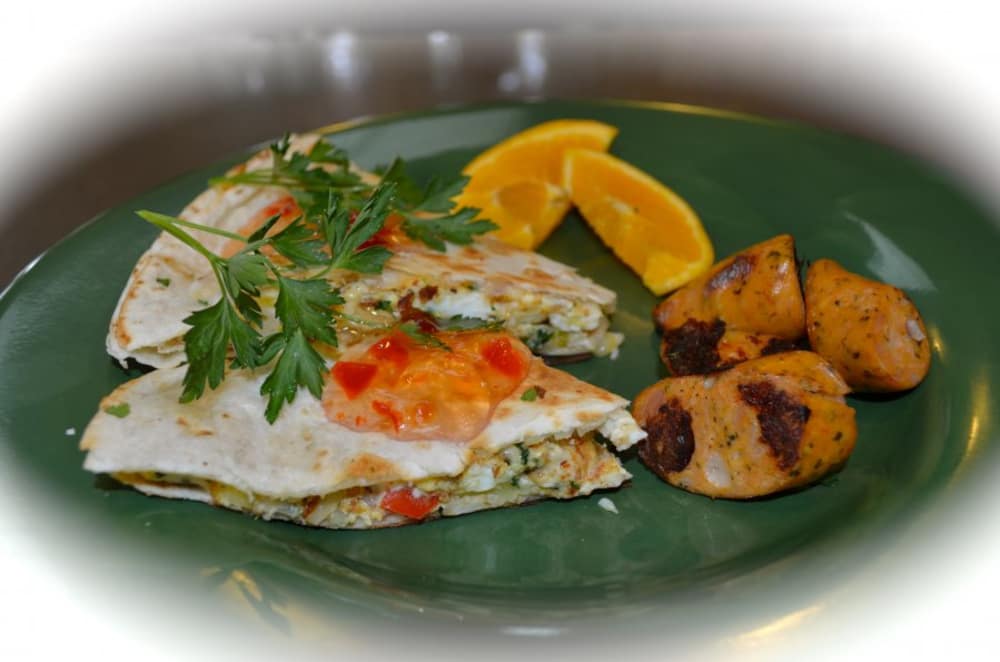 So easy, tasty and visually appealing these breakfast quesadillas have become a keeper for our summer menu at the Old Parkdale Inn. I served them garnished with Red Pepper Jelly from the Apple Valley Country Store and sprigs of fresh Parsley.
This size can serve 3-4 guests: Sauté about a quarter cup each red pepper and red onion in about a tablespoon of butter. When almost translucent add about a quarter cup of parsley. Meanwhile scramble 4 large eggs with a teaspoon of chili powder and a dash of cumin. When the parsley is just slightly wilted pour in the egg mixture, gently stir and turn until eggs are cooked. Set aside. In another large skillet add a bit of butter and when hot place a 10″ tortilla into the hot pan. Sprinkle about a quarter cup of cheese right up to the edges of the tortilla, spread egg mixture and another quarter cup of cheese. Lay another tortilla on top and press down. Cook quesadillas until golden brown on both side. Remove from skillet and cut into 6-8 wedges. Try using bacon bits, diced ham, sausage bits, goat cheese, spinach, mozzarella cheese, sliced tomatoes, chives.
We enjoy creating breakfast dishes that are both appealing to the eye and the taste buds and use only the freshest ingredients, many coming right our of our Community Supported Agriculture (CSA) box delivered to our front door by Hood River Organics. Fresh, organic, local produce from growers in the Hood River Valley, the Columbia River Gorge and other farms in Washington and Oregon.
During the COVID-19 pandemic our open status has moved forward with information provided to us by the CDC and the Oregon Health Authority. We are putting more proactive and preventive measures in place so the Old Parkdale Inn will remain a place of rejuvenation for those seeking space to breathe and relax.
With guidance from the Oregon Health Authority we are focusing our attention on enhanced routine cleaning in preparation of your arrival and will only allow one room to be booked at any given time. Less guest traffic means less co-mingling in the halls and common spaces. All services, include breakfast and beverages will be in-room. We are committed to providing refuge for those of you who need a safe and clean space to ride out this pandemic. We will reduce our rates by 10% until we can resume the full service our guests have come to expect.
If you'd like to support our Inn during this difficult time please consider purchasing a gift certificate for yourself or loved one. Or let's remain optimistic and book a future stay. This won't last forever.
Let us be home base for exploring and enjoying the Hood River Valley and Mt Hood National Forest. After a full day, you'll love the peace and tranquility of the Old Parkdale Inn. Relax in the gardens, perhaps with a glass of wine from a bottle you picked up at a local winery or our wine cabinet. We can even have a bonfire, roast some s'mores, if you'd like. We now have EV and Tesla Chargers for guest use.
Outdoor adventures such as kayaking, windsurfing, skiing, snow boarding, and hiking await. Mt. Hood Meadows, Cooper Spur Mountain Resort, and Timberline Ski areas are only a short drive away, as is the vast Mt. Hood National Forest where trails and wildlife abound. We partner with Mt Hood Meadows and Timberline Ski Area, offering multi-night packages and access to discounted lift tickets. Stay at the Inn and take advantage of our partnership with Wet Planet Whitewater to receive $10 your raft adventure.