March 10, 2012
Breakfast Quesadillas at the Old Parkdale Inn
By: Mary Pellegrini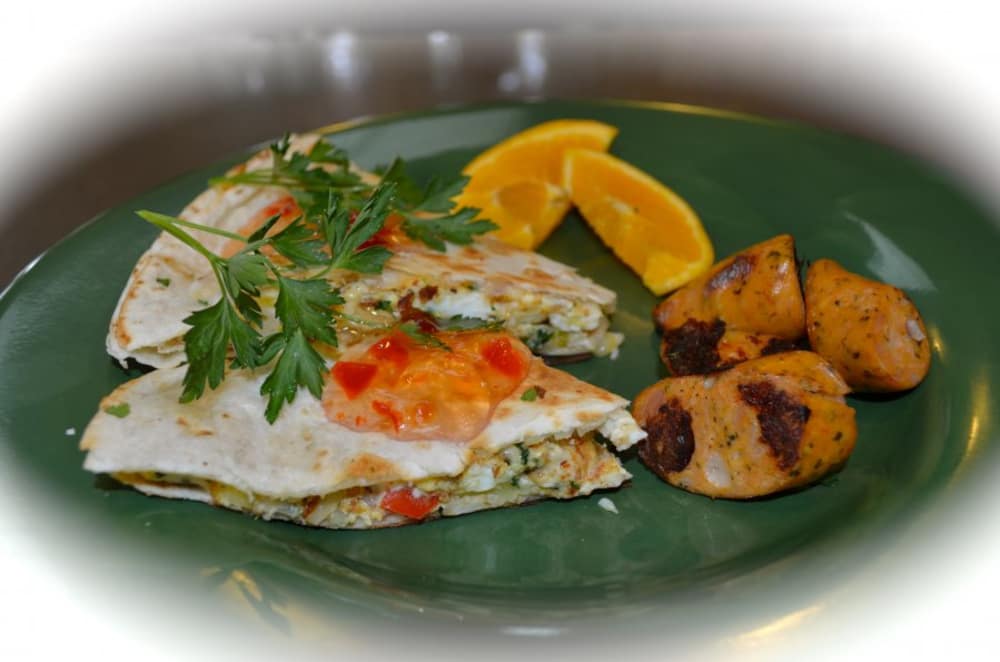 During our very busy summer months I haven't got time to try out new recipes. So I like to take advantage of this slower time of year to research new breakfast menu ideas. I've created a Pinterest page for the Old Parkdale Inn, http://pinterest.com/innparkdale. One board is called 'Maybe for Breakfast.' The photos and links on Pinterest are amazing and endless and I have found quite a few wonderful food blogs. I pin photos of breakfast/brunch dishes I'd like to prepare in the 'Maybe' board and as I give them a try and take photos myself I'll add them to the 'What's Cooking' board. This morning it was Breakfast Quesadillas. So easy, tasty and visually appealing. Guests loved them so I think they are a keeper for the summer menu. I served them garnished with Red Pepper Jelly from the Apple Valley Country Store and sprigs of fresh Parsley.
This size can serve 3-4 guests: Saute about a quarter cup each red pepper and red onion in about a tablespoon of butter. When almost translucent add about a quarter cup of parsley. Meanwhile scramble 4 large eggs with a teaspoon of chili powder and a dash of cumin. When the parsley is just slightly wilted pour in the egg mixture, gently stir and turn until eggs are cooked. Set aside. In another large skillet add a bit of butter and when hot place a 10″ tortilla into the hot pan. Sprinkle about a quarter cup of cheese right up to the edges of the tortilla, spread egg mixture and another quarter cup of cheese. Lay another tortilla on top and press down. Cook quesadillas until golden brown on both side. Remove from skillet and cut into 6-8 wedges. Try using bacon bits, diced ham, sausage bits, goat cheese, spinach, mozzarella cheese, sliced tomatoes, chives.
We enjoy creating breakfast dishes that are both appealing to the eye and the taste buds and use only the freshest ingredients, many coming right our of our Community Supported Agriculture (CSA) box delivered to our front door by Hood River Organics. Fresh, organic, local produce from growers in the Hood River Valley, the Columbia River Gorge and other farms in Washington and Oregon.