October 14, 2020
Book Direct at the Old Parkdale Inn Bed and Breakfast
By: Mary Pellegrini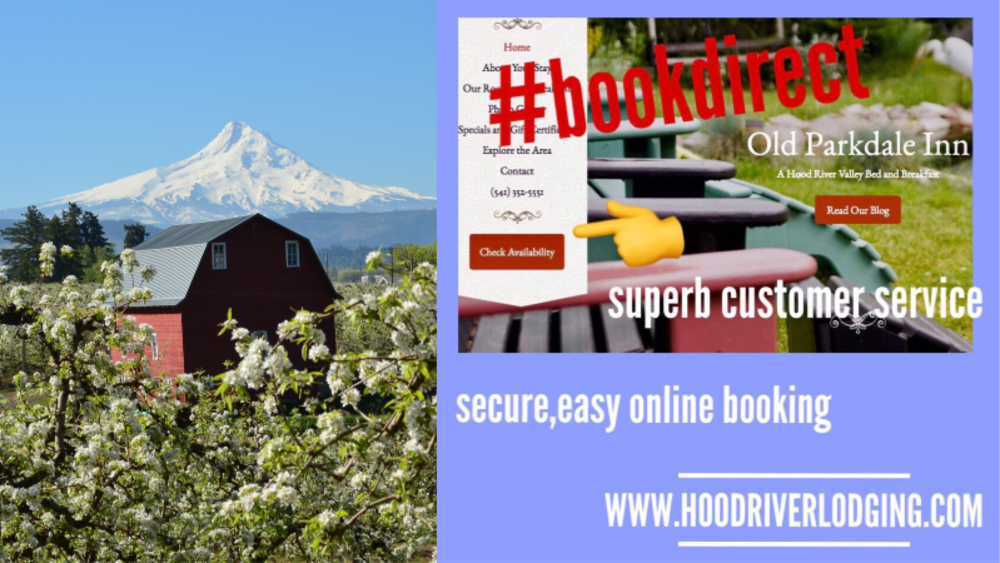 Book Direct: It's a thing we can all embrace and benefit from. Don't waste your time looking anywhere else for a 'better deal'. Take advantage of the direct room booking on the Old Parkdale Inn homepage.
When you commit to booking direct, you will enjoy many perks and amenities that you would not have access to when booking through a travel agency. Not to mention, you will almost always pay less!
As small business owners we truly appreciate your direct bookings. This not only allows you a more personalized experience as you interact directly with us, you also benefit the local economy
Did you know when you book directly with us:
~ You usually are guaranteed the lowest pricing available. 'An OTA (online travel agent) may be able to influence the price to get you to book but there is little they can do to improve your stay.' Support your local businesses and #bookdirect! You save on your getaway, receive personalized service and the business saves on steep commissions - it's a win win
~ The truth is, these booking sites charge at least 15% of each booking to the small business owner and sometimes charge you a 'service fee'. So you can see why we appreciates it when you book directly with us either via our website or over the phone
~ You work directly with us in case of changes, delays, or cancellations
~ You typically will not have to pay additional booking, change, or cancellation fees, if you cancel outside our 7 day cancellation period
~ You will enjoy exclusive benefits and can take advantage of special deals, amenities, and packages
How can you, the traveler Join the Movement and make sure you're always booking direct?
~ Always verify you are on the Old Parkdale Inn Website before you book.
~ When in doubt, call the Inn for assistance.
~ Be careful using the blue 'Book a Room' button in Google. It never goes directly to our website. It always goes to an online travel agency such as Booking.com or Expedia, or one of their downstream booking partners
~ We thank you in advance for booking direct with us at the Old Parkdale Inn Bed and Breakfast
Let us be home base for exploring and enjoying the Hood River Valley and Mt Hood National Forest. After a full day, you'll love the peace and tranquility of the Old Parkdale Inn. Relax in the gardens, perhaps with a glass of wine from a bottle you picked up at a local winery or our wine cabinet. We can even have a bonfire, roast some s'mores, if you'd like.
Outdoor adventures such as kayaking, windsurfing, skiing, snow boarding, and hiking await. Mt. Hood Meadows, Cooper Spur Mountain Resort, and Timberline Ski areas are only a short drive away, as is the vast Mt. Hood National Forest where trails and wildlife abound. We plan to partner again with Mt Hood Meadows and Timberline Ski Areas allowing us to offer discount lift tickets to our guests. Stay at the Inn and take advantage of our partnership with Wet Planet Whitewater to receive $10 your raft adventure