August 24, 2018
A Bazillion Dollar View on the Oak Ridge Trail
By: Mary Pellegrini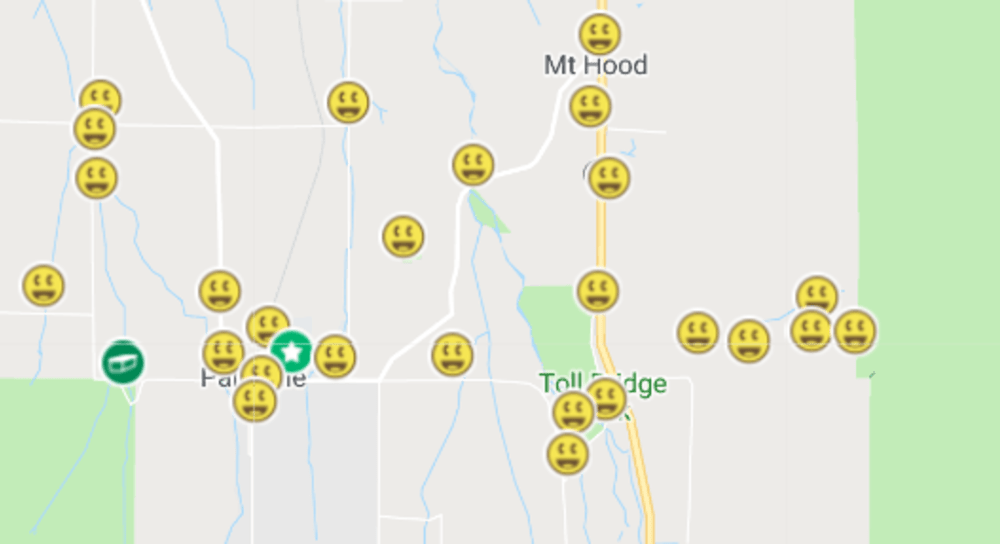 Had a little time this morning so decided to hit the Oak Ridge Trail, a lovely trail that takes you up out of the Hood River Valley, through a mixed conifer forest and on to open slopes with stands of Oregon White Oak. The trail continues all the way to the top, 2.3 miles, where it joins up with the Surveyors Ridge trail. Today we were caching though and only went as far a GC64MGX Bazillion Dollar View, represented by the Smiley Face on the far right. The 2.3 miles has an elevation gain of almost 2000', it's a bit steep.
The device said it was only .3 from our parked car but as all cachers know this is a straight line and the Oak Ridge Trail is anything but straight. Actually was about .9 miles of pretty much straight up with, I lost track, a lot of switchbacks. But the Bazillion Dollar View of Mt Hood and the Hood River Valley below was so worth it.
It was cool and dry today. I've done this hike in the spring when the Wildflowers are awesome. If you decide to go all the way to the top to Bald Butte you're looking at about a little over 4 Miles one way. Spectacular hike with 5 geocaches up the Oak Ridge Trail, 4 before you get to the Bazillion Dollar View. A whole Surveyors Ridge Series on top, 56 caches in the series with a few others thrown in for good measure.
Just for reference: The Green circle with the white star represents GC4FH6G Parkdale Travel Bug Inn on our property here at the Old Parkdale Inn. Geocaching search for caches shows over 500 caches within a 10 mile radius of the Old Parkdale Inn. We'll share with you some of our favorites.
Another reference: riders on the Oregon Timber Trail descend into the Hood River Valley via this trail.
Let us be home base for exploring and enjoying the Hood River Valley and Mt Hood National Forest. After a full day, you'll love the peace and tranquility of the Old Parkdale Inn. Relax in the gardens, perhaps with a glass of wine from a bottle you picked up at a local winery or our wine cabinet.
Outdoor adventures such as kayaking, windsurfing, skiing, snow boarding, and hiking await. Mt. Hood Meadows, Cooper Spur Mountain Resort, and Timberline Ski areas are only a short drive away, as is the vast Mt. Hood National Forest where trails and wildlife abound. We partner with Mt Hood Meadows and Timberline Ski Areas allowing us to offer discount lift tickets to our guests. Stay at the Inn and take advantage of our partnership with Wet Planet Whitewater to receive $10 your raft adventure.