August 2, 2020
2020 Meteor Showers in the Dark Skies over Mt Hood
By: Mary Pellegrini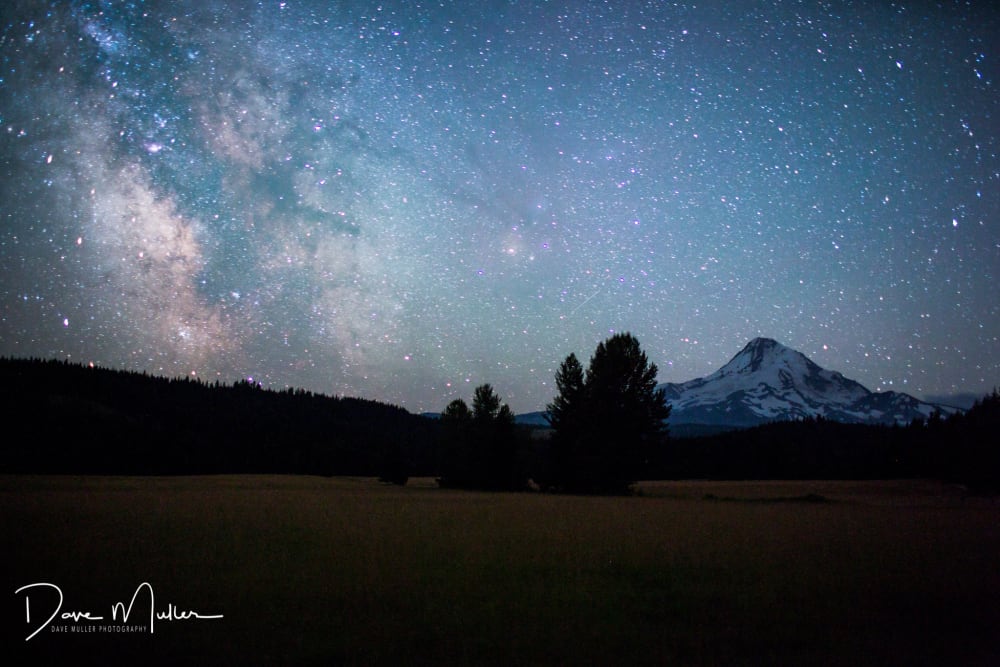 Oregon has some of the largest expanses of dark skies in the US. Photographers come from around the world to capture the infamous shot of Mt Hood and the Milky Way. I don't pretend to be one of these great photographers but our guest, Dave Muller from Oklahoma, is one. I share his photo with his permission.
With our large expanse of dark skies comes the opportunity to observe some spectacular meteor showers also.
Perseids: In 2020, the peak mornings for the Perseid meteor shower, August 11, 12 and 13, will feature meteors under moonlight. The Perseids tend to be bright, so we expect a good percentage to overcome the moonlit glare, as many as 50 meteors in an hour.
Orionids: In 2020 the Orionids will peak on the night of Oct. 20, with rates of about 10-20 meteors per hour. The moon won't interfere because it will be in a crescent phase (about 23% full) and will dip below the horizon before the shower starts up
Geminids: The Geminids occur every year from about December 4 to 16, peaking the night of December 13 into the morning of December 14th, with as many as 75 meteors per hour.
Ursids: Next period of activity: December 17th, 2020 to December 26th, 2020. The Ursids meteor shower usually peaks around December 23. At its peak, observers may be able to view as many as 10 meteors in an hour.
Cloud Cap Inn is located at 6,000 feet elevation on the rouged northeast side of Mount Hood, and is listed on Dark Sky Finder. The air is exceptionally clear because of the altitude. There's a light dome from Portland to the west, but the rest of the sky is very dark, with great views of Hood to the south.

The Cloud Cap Road is ten miles up, ten miles down. A gravel road, winding through the brittle spires left behind from the Gnarl Ridge and Dollar Lake fires. The best observing spot would be at the top of the road right next to the historic inn, where there aren't too many trees in the way.

But you needn't venture that far from Parkdale. Dave's capture was taken just a couple miles up the road from us at the Old Parkdale Inn. He headed out about midnight, on a clear night for this amazing money shot. And we'd be glad to share some of close in dark sky options.
We're back in business and taking reservations with our promise of a safe and great escape. Thank you for trusting us to be your home away from home. We've posted our Hospitality and Health Update on our website. Purchase a gift certificate for yourself or loved one.

Reserve your Stay Now
Let us be home base for exploring and enjoying the Hood River Valley and Mt Hood National Forest. After a full day, you'll love the peace and tranquility of the Old Parkdale Inn. Relax in the gardens, perhaps with a glass of wine from a bottle you picked up at a local winery or our wine cabinet. We can even have a bonfire, roast some s'mores, if you'd like. We now have EV and Tesla Chargers for guest use.
Outdoor adventures such as kayaking, windsurfing, skiing, snow boarding, and hiking await. Mt. Hood Meadows, Cooper Spur Mountain Resort, and Timberline Ski areas are only a short drive away, as is the vast Mt. Hood National Forest where trails and wildlife abound. We partner with Timberline Ski Area, allowing us to offer discount lift tickets to our guests. Stay at the Inn and take advantage of our partnership with Wet Planet Whitewater to receive $10 your raft adventure.