March 16, 2016
Creamy Orange French Toast
By: Mary Pellegrini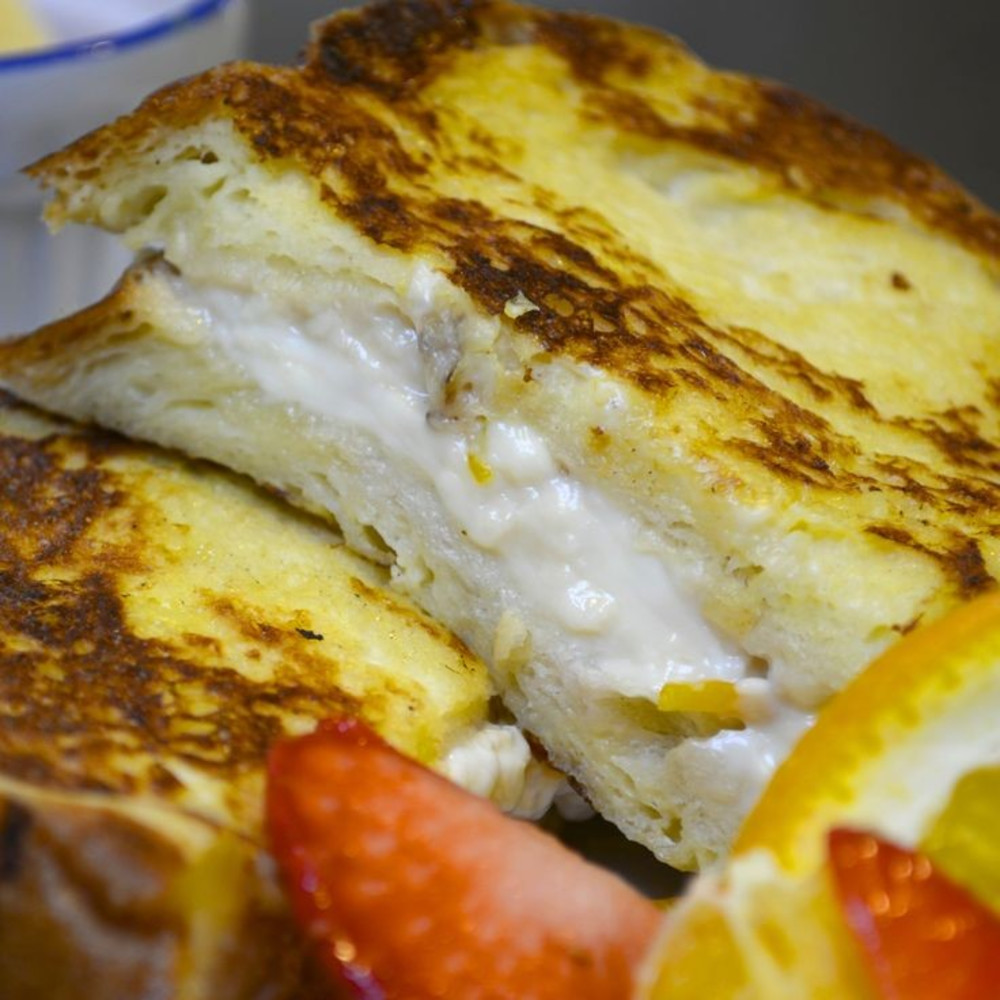 Our Creamy Orange French Toast, a spring favorite at the Old Parkdale Inn Bed and Breakfast was featured on Think Tasty. Thanks to Pine Street Bakery for making the delicious Challah that makes this dish even more amazing.
Remember the orange popsicle filled with vanilla ice cream? Who didn't love them then and who doesn't still love them now? Steve made a quick trip to California last week and brought home some wonderful Organic Valencia Oranges from the Sacramento Valley. We'll use them in Orange Ricotta Pancakes, Fresh Orange Smoothies, Fruit Salads and more. Yesterday morning I made this creamy French Toast with a Gluten Free White Bread but I prefer using a fresh Challah Bread. Challah makes the best French Toast and when combined with cream cheese, vanilla and orange, a dreamy
Creamy Orange French Toast
In a small bowl cream together 1/2 tsp orange zest, 1 tsp sugar and 4 oz softened cream cheese
In another bowl Whip together:
3 large eggs
½ tsp vanilla extract
zest from 1 orange
juice from that orange
cup of milk
2 Tbsp heavy cream
2 tsp sugar
Spread the cream cheese mixture between two slices of bread. I like to lay the sandwiches on a cookie sheet where the milk and egg mixture has been poured, flipping them after about 5 minutes. The type of bread you are using will determine how long to soak. Dryer bread a little longer that a very moist bread like Challah. Fry on a hot griddle until golden, about 3-5 minutes on each side.
Meanwhile, combine fresh orange juice from half an orange, 1/2 cup maple syrup and 1/2 tsp vanilla extract in a small sauce pot. Bring to simmer and take off heat.
Serve piping hot garnished with thinly slices oranges and a dusting of powdered sugar.
You can adjust this recipe to satisfy dietary needs. I've used coconut or almond milk for lactose intolerant guests. A Vanilla Soy Creamer adds flavor. There are some very good non dairy cream cheese products available.
Reserve your Stay Now
Let us be home base for exploring and enjoying the Hood River Valley and Mt Hood National Forest. After a full day, you'll love the peace and tranquility of the Old Parkdale Inn. Relax in the gardens, perhaps with a glass of wine from a bottle you picked up at a local winery or our wine cabinet. We can even have a bonfire, roast some s'mores, if you'd like. Outdoor adventures such as kayaking, windsurfing, skiing, snowboarding, and hiking await. Mt. Hood Meadows, Cooper Spur Mountain Resort, and Timberline Ski areas are only a short drive away, as is the vast Mt. Hood National Forest where trails and wildlife abound.